At long last there was a positive sign on the ice at penguins practice on Thursday. The great Sidney Crosby was seen wearing a black helmet instead of the white one, he had been using since being back on the ice. What does the black helmet mean? it means that the rest of the Pittsburgh penguins no longer have to pay extra attention to where Crosby is, essentially they are okay to "hit" him. Yes at long last Crosby got the all clear from doctors to participate in contact at practice, thus the next step in Crosby's return to a league game. "It's a good step in the right direction," said Crosby, sweat still pouring off his face following the half-hour practice. "It's a big step ... it's a big one and we'll see how things go." Although he was cleared for contact Crosby neither received or gave out any hits on the ice.
So what does this mean? Will be seeing Crosby in the coming couple weeks? Likely not, the penguins play 6 games in 10 days, so it will be difficult for them to schedule a practice in which Crosby can take a little contact. But it will help Sid the Kid ease back into the swing of things. Although Crosby has been upgraded to being able to take hits, there is no timetable for his return, another sign it is unlikely we see him before November. "But I don't think it's hard to be patient at this point," said the 24-year-old Crosby. "I'm getting closer and I want to make sure I respond well in the next however long it is." Crosby's doctors have said that there is still a few more hoops to jump threw before he is ready to be thrown into a actual game; First off he has to be hit, something his teammates will likely be hesitant of. Then he has to prove that he is fine after a hit, IE no headaches or dizziness. Then finally he will have to prove that he can handle the hard faced pace action of a game. Crosby said he has been symptom free since the end of the summer; "Yeah, I've been good since around (the start of) camp," he said. "Everything's gone pretty smooth."
Now this is huge progressive for the leagues super star, He's gone from having trouble walking with others and looking at a TV, to being back on the ice ready for contact. He even went through all of training camp, which was a good sign to the organization and his doctors. "Going through training camp, (from) where he came from, was significant and helped with that process. He's been with a line, he's been in full drills, even in some drills that had contact although he had the non-contact helmet. It's significantly different than coming back halfway through season," Bylsma said. "That helps with the situation." The only catch is the fear his teammates will be to reluctant to hit him in practice, they will likely lay up on their checks or just bounce off of him, or flat out avoid the contact. But coach Bylsma isn't to concerned as Crosby is usually pretty good at getting people to take a run at him, the ultimate pest to his teammates; "But he instigates contact and he'll do something that will warrant that from a player," Bylsma said. "There will be some jostling and hitting going on. Every training camp, he's always ended up in some jostling with players and that will happen because of the way Sid competes." and Crosby didnt shy away from saying that he will undoubtedly have to jossile his teammates if they dont co-operate. "Maybe have to bump them a little bit and get them going. (Get it as) close to a game situation as we can get it," Crosby said.
But despite all the progress the 24 year old has made, there are still 2 words the penguins are waiting to hear from doctors "Full Go". That would mean he would be ready to be inserted into a game. Despite all the practice and progress Sid has made, he knows practices are nothing like a real game at full speed. But the leagues marquee player should not have too much trouble readjusting to game speed. He's quite the NHL career and had no trouble adjusting when he was just 18; Crosby has won an MVP, a Stanley Cup, an Olympic Gold Medal and a scoring title all before turning 22. Right now after a 9 month layoff due to the concussion, Crosby is so close to being back, is on stage 5 of 6 of the return to play protocol. But the question remains how long will he stay at stage 5 and what if he goes backwards after receiving a hit.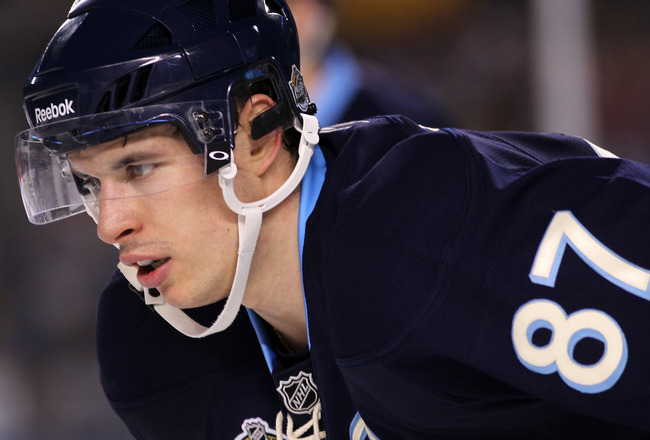 K the first part of this blog was all fact, I'm now going to specualte a little more on the future of Crosby. Now the first issue is, no one knows if the Crosby that left the game back in January will be the same Crosby returning back to the ice, when he gets clearance. He may be timid at first and avoid the corners, try to get rid of the puck as quick as possible to avoid the other team. There is a whole psychological aspect dealing with these concussions, it can really screw you up mentally and change a person. But for the NHL and the fans sake, I hope Sidney Crosby return to his normal goal scoring self. I can already see the Hollywood movie script being typed up now. "The great Crosby return from possible career ending concussion and wins another Stanley cup and scoring title" But all joking aside, it will be difficult for Crosby to come back and see just how fast his opposition is moving.
Secondly there is a very sensitiv topic that I know is the back of everyones mind, including Crosby.
With the game it is right now, everyone is targeting the head. SOMEONE IS GOING TO HIT CROSBY AND END HIS CAREER! there I said it!! You know its going to happen, somebody is just going to smoke him and then have the ultimate reputation for ending Sidney Crosby's hockey career. Whats the league going to do suspend the player for 15 games? Big Whoop. I have absolutely no doubt in my mind that someone in the league is going to take another "accidental" run at Crosby, It may not be right away, it may not even be this season but eventually MARK MY WORDS someone is going to go head hunting on Sidney Crosby.
Whats a crucial thing for teams to do in hockey, exploit their oppositions weaknesses. Sidney Crosby and the Pittsburgh penguins weakness is Crosby and his concussion. No one will come right out and say they are going to do it or they meant to do it, but it'll happen. It may not even be a huge hit, once you sustain a concussion your are at more risk for a concussion even if they hit was minor, its twice as likely to cause concussions. Im truly sorry but you know everyone is thinking about it.
The NHL and hockey in General needs Sidney Crosby back, like it or not, he is a huge "attraction" to the fans. When Crosby is in the line-up more tickets are sold, more merchandise sell, and more kids start playing hockey because they want to become the next Sidney Crosby. He's a good Canadian boy with good values, a sense of humor and out of this world hockey skills, just what hockey needs!
Remember if it wasn't for him the Americans would have likely brought home the gold medal at the Olympics. Love him or hate him, we need number 87 back on the ice where he belongs. Its great to see the Sid has taken the next step in this very long and difficult path back to the NHL, I'm happy for him, he can now start to see the light at the end of the tunnel, lets just hope its not another train coming for his head. Look for Crosby to be back in a game situation in roughly a month. For penguins fans, be happy it is likely you will see your number 1 center before the Leafs see their new number one center.