Well were roughly 6 games into the regular season (depending on teams) so Lets see who's producing and helping their teams and who's not.
Phil Kessel
I know for myself I did not see this super start to the season for Leafs superstar Phil Kessel, I was just hoping for an ordinary season out of him, but right now he is on pace to reach the 40 goal plateau. Kessel has 7 goals in 5 games, and 12 points to go with it. Now Kessel will likely not be able to keep this pace up for the whole season, but he's helping the Leafs win right now, and thats what counts. With this amazing start to the season Kessel has been dubbed Phil the Thrill Kessel. I am very impressed with his start, and what makes this fast season start different that other seasons, is that he is more mature; He is now playing a full 200ft game, and he thinks about passing almost as much as shooting now.
Luke Schenn
Schenn has not gotten off to the start the he and everyone else would have liked him to have. Last season Schenn averaged 22 minutes a game, but so far this season Schenn has yet to see any ice time close to that. Worse than the diminished ice time, is he looks horrible when goals are scored against the Leafs, he losing coverage and cant seem to clear the puck out of his own defensive end. The early season struggles has many saying Schenn has caught the Komisarek virus. One possible reason to the slow start, his the massive contract Luke Schenn and The Leafs agreed to right before camp, a 5 year extension that will see Schenn earn 3.5 million per year. i think its just a matter of time before Schenn steps up his game, but until than Leafs fans can expect to see Schenn's minutes stay low. For him to snap out of this funk he needs to keep his game simple; 1 pass out of the zone.
James Neal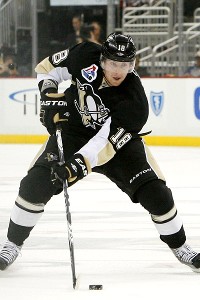 Not going to lie here, when I heard that Pittsburgh penguins forward James Neal was scoring all these goals, I had to think to myself; Pittsburgh has a James Neal? Low and behold they do, and he is a Canadian to boot. In 8 games with the penguins he has 6 goals (2nd) and 7 points. He is helping fill the void of not having Crosby, Malkin and Letang. Making life for the Penguins a little bit easier. But I have never heard of this kid? so where did he come too. The Penguins required Neal at the trade deadline from the Stars last season. Right now Neal is on pace to score 30 goals, and its not seeming so far fetched anymore.
Thomas Vanek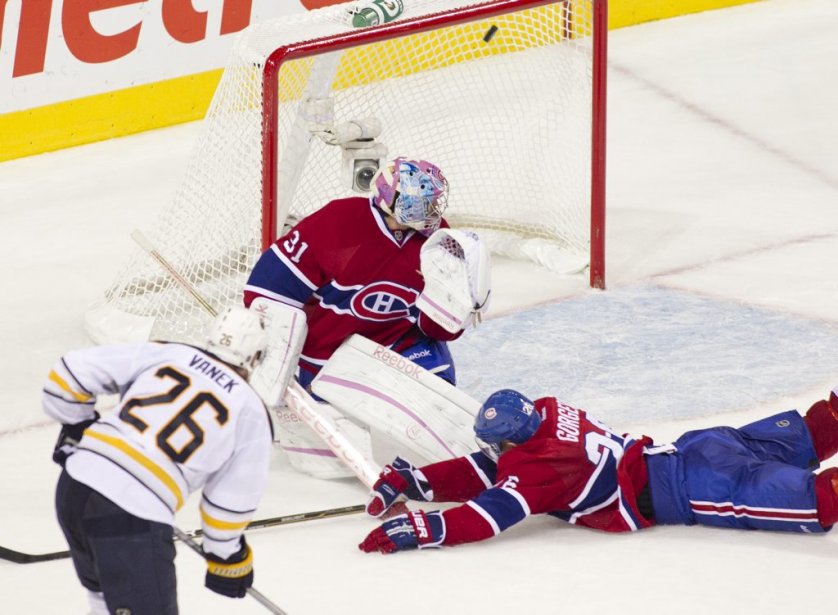 be as many goals as Phil Kessel. but its when Vanek is scoring his goals, they are coming at crucial times. Vanek scored the second goal of the win against the Canadians, with 2.8 seconds left in 2nd to put the Sabres up 2-1 heading into intermission. Vanek a little upset that he was an assistant captain instead of the captain is showing the Sabres organization that maybe they should have given a little more thought to him wearing the C. Regardless he is playing like a leader on this reformed Sabres team, that has new faces from right to left. Im hoping Vanek will be able to keep this pace up and help this Sabres team make a deep run into the playoffs.
Matt Read
A Philadelphia Flyers rookie, who no one knew, until Tuesday when he put up 4 points in a 7-2 win over the Senators. The young kid has 6 points in 5 games this season. This is Reads first time playing in the NHL, and he`s making a case, to play a whole season with the Flyers. with 2 goals and 4 helpers, he`s making a name for himself in Philly.
Roberto Luongo
I hate to say it, well actually I dont since I`m not a fan of Luongo, but he is playing horrible to start the season. Remember Luongo`s less than Stellar play in the cup finals last spring? yeah well he`s decided thats how he will start this year! with less than stellar goaltending. Luongo is ranked 37th out of goaltenders with his GAA of 3.70 goals a game and a very sad Save Percentage of .856% Luongo can be quite a spectacular goalie, when he decides to actually play like an elite goaltender. Until Luongo steps his game up, he will remain the ire of Canuck fans. Right now Luongo has forgetton the basics of goaltending and his flopping around like a fish out of water. As much as everyone loves to blame Luongo, unless his teammates score, their not going to win no matter how well he plays.
Dwayne Roloson
The grey haired veteran who helped get the Lightning into the 2nd round of last years playoffs, has not a a good start tot the season to say the least. The Lightning as a whole have given up 26 goals in their first 6 games. (4 goals a game) and a 6.73 goals-against average in his last three starts. The 42 year old will need to pick up his play if the Lightning are going to claw their way out of 12th in the east into a playoff start.
Ryan Nugent-Hopkins
Now the first over all draft pick in this past draft may not be considered as playing "hot" so to speak, but he did record his first NHL career hat- trick in only his 3rd NHL game. Pretty impressive for such a young star. Right now in Edmonton Hopkins is being dubbed the "oilers savoiur" as with the addition of Hopkins to
an already star studded team, they believe he will lead the team back to the post season. Strange that he is getting higher rating than Taylor Hall and Jordan Eberle, but hey cut the kid some slack and let him play his game, maybe in a year or two, we will see the oilers back in the post season. So far Nugent-Hopkins has 5 points in 5 NHL games, the hat trick helped with the points thats for sure. There is no question this kid is going to be good, the question is how good?
Alexander Ovechkin
This one breaks my heart a little bit, I love Ovie and I though he's have a better start to a year, he knows the Capitals need to go big. But through 5 games this season Ovechkin only has 1 goal! 1 goal?!?!?!? are you kidding me??? Its not like he's helping else where either, only 2 assists and a +/--2. Where is the Ovechkin we all love, or at least love to hate. Lucky for Capitals fans the Washington Capitals are still 5-0-0 without Ovechkin doing anything at all. But this success without Ovechkin contributing can not last long and will lead to another early exit from the post season. Want to know a secret? Ovechkin is afraid to hit! He thinks if he hits someone he will suspended. When Ovechkin hits without any remorse he plays just fine and is on fire, but when he doesn't hit, he plays like crap. This new crack down on hits is making Ovechkin get off his game. Ovechkin needs to get his game back up to full speed, hit a few guys and not worry about the consequences of his hits only then will Capitals fans get to see the real great 8 at his best.
Marc-Andre Bergeron
The Lightning's best player thus far to be sure. Has already matched the numbers he put up all last season and were only 6 games in. Right now Bergeron is sitting a 2 goals and 6 assists for 8 points. Another positive is he doesn't have a
negative
-/+ rating quite yet. He is currently leading the league in goals scored by defenceman, pretty impressive for a guy who had 8 points all of last season. All of the drafties are kicking themselves for not taking a chance and drafting this guy thats for sure. With Bergeron riding hot and quarterbacking this Lightning power play there is no telling how many goals and points this guy will rack up, maybe even doubling his points from last season.
John Tavares
What can I say about this kid, he signed a deal keeping him on long island for the foreseeable future and stating that he has faith in his team. This could have easily jumped ship and found another team in an instant, but he believes in the new Islanders team. Good thing he stayed because he is on fire right now! on a 3 game win streak right now Tavares has put up 5 goals and 3 assists for 8 points in 4 games to start off the season. Now it may become the same old story for the Isles, and they mall fall short of the playoffs again, but I think this is the year we will see Tavares step up and be a league leader in goals and points. This kid has a lot of maturity and has a lot of talent. I see good things for Tavares and the islanders
P.K. Subban
The young flashy Montreal Canadian is off to quite a slow start, and he's hearing about it. Whats being dubbed as the PK show is starting to really get on peoples nerves, with just 1 win int he first 5 games, the Canadians need players to step up. Montreal is relieing on Subban quite heavily as the youngster is averaging 24:55 minutes a game. But Subban has made a couple of boo boo's and has been out of position for many a goal scored against the Canadians. But Subban is sticking to his guns and is not about to change his game anytime soon. But right now he should reconsider it, as he is off to a very slow start, something the Canadians do not need. One reason Subban is getting hung out to dry is there have been a number of injuries to Canadians defencmen, making it near impossible for them to "rest" Subban when he isn't on his game. With many errors to start off the season many are wondering if his rookie season was a bit a fluke, and if he has returned to being a diva who still needs to learn his place in the league.
Please not this blog was made on Thursday Afternoon, right before 11 games on Thursday night, some of these stats may be slightly altered based on Thursday nights games. So for those of you who's players are not playing well right now, don't worry its still early, remember it is an 82 game season, still lots of time. For those of you, who's players are playing well, remember its still early, stuff could change, almost all NHL players go into a slump at some point during the season. Hope you enjoyed this edition of "who's hot and whos not".