So if you are a fan of the Buffalo Sabres or the Toronto Maple Leafs, you have likely heard the name Tim Connolly. That probably also means instead of hearing the name and thinking it's good news, it is usually attached to an injury.
The Toronto Star dubbed Connolly "the man of many injuries" and sadly enough it's true! Fans and media were informed Monday that Connolly would miss the next 10-14 days with an upper body injury. Earlier in the season, Connolly missed the first 8 games with a upper body injury. "It's totally unrelated to the earlier injury," Leafs coach Ron Wilson said. "He got hurt in the game the other night [against Boston]. I said it's upper body; I'm not going to get into specifics. He got hurt on the first penalty kill; he left the ice for a bit and then he felt okay. "He played regularly in the game and I didn't even think about it until I got an email yesterday that he was going to be out 10 days to two weeks ... We'll probably call somebody up." Tim Connolly has already sat more games than he has played this season, having dressed for a mere 6 games. He's certainly not making a good impression with this impassioned Leafs fan club. "It was just a little bit of a cross check … I kind of felt right away that there was something wrong but I just tried to battle through it," Connolly said of the injury. "I'm just giving it a couple of days to settle down and then I'll be right back to working out, skating and getting prepared to get back in the line-up." Come Thursday, Connolly will have missed 200 NHL games due to injury. The Leafs signed Connolly to a 2 year $9.5 million contract this past off season. Whether it's bad luck, or just Tim Connolly`s baggage, he is now know as an injury prone hockey player, and besides the Leafs, few teams would wanted him on their pay roll, but I feel kind of bad for him, no player wants to be injured, so to make him feel a little bit better about all the chirps he`s getting, I`ve done some research and have found some other NHL players who've been hurt a fair majority of their career.
Lets start out with a simple one; Rick DiPietro. The New York Islanders goalie has had a slew of injuries during his 9 year career. How`s this for a slap in the face, in his past 3 NHL seasons DiPietro has played in only 39 games! DiPietro already suffered a concussion to start of his 2011-2012 season, will the injuries ever end for DiPietro, whether he`s hurting his knee at all-star games, or hurt from a fight there is always something wrong with that dude!
How about the Devils Martin Brodeur? No he hasn't missed a ton of games during his historic 18 NHL seasons, but during the last couple of seasons people are beginning to question this future hall of famer's health. In the 2008-2009 season Brodeur only saw ice time in 31- games a far cry from his usual 70+ games. Last season Brodeur was also plagued with injuries that limited him to just 56 games. Sure many goalies would love to play 56 games, but for Martin Brodeur 56 games is nothing. In 12 of his 18 seasons he has played 70+ games. It's only fair though, that Brodeur is starting to wear down, his age plus the wear and tear of 70+ games in a season are starting to catch-up with him. He's had a good run but who knows how much longer his body can hold up, considering he's already missed 6 games with a bruised shoulder this year. But I'd still take the 39 year old veteran goaltender on my team any day of the week.
But hey, enough picking on goalies, their jobs are tough enough. Marc Savard of the Boston Bruins, man he's a guy you just have to feel sorry for, he may never play another game in the NHL. He can thank Matt Cooke for that. Recently Bruins GM Peter Chiarelli released this statement; "Based on what I see, what I hear, what I read, and what I'm told, it's very unlikely Marc will play again". On February 8, Savard received his 2nd concussion in a span of 10 months. Last season saw Savard play in just 25 games, in the previous season he played in 41 games. This may be the end of the road for the 34 year old, still struggling with post-concussion syndrome, the Bruins opted to "shut down" Marc Savard for the 2011-2012 season.
David Moss of the Calgary Flames, sure the label of injury prone isn't permanently stuck by his name, but it is getting close. Over the last 2 seasons Moss has missed a total of 42 games due to injury, and was plagued with right ankle injury for most of last season.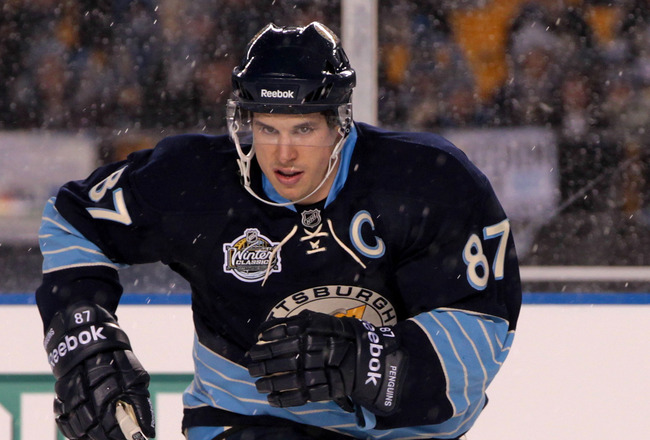 Now here's a name that you would almost never think to label injury prone Sidney Crosby. Now before I start receiving death threats, let's think about this for a moment shall we. Now everyone knows about Crosby`s concussion and the 41 games he missed last season, but that was not Crosby`s first stint on the IR. He got hurt in game 7 of the Stanley Cup Finals in 2009, And in 2007-2008 Crosby missed 39 games due to a right ankle injury. Take this into account Crosby has never once played all 82 games in a NHL season. Crosby has also had several minor injuries where he just missed 2-5 games. Maybe the "soft" label on Crosby has been put there due to various injuries. Now being the number 1 hockey player in the world, you are likely to be targeted by opposing players more often than not, but all the games he's missed just make all his accomplishments just that more amazing.
Here's a name that has been out of the headlines for awhile Carlo Colaiacovo, the former Leaf is now playing for the St. Louis Blues. Last season Colaiacovo missed 17 games due to injury and 15 the season before. But back in his days with the Leafs, he suffered a concussion that forced him to miss the entire 2005-2006 season. In April 2007 he underwent knee surgery. But he has been fairly healthy since his trade to the Blues, playing in 60+ games in 3 seasons. But the knock on Colaiacovo has always been his injuries, so him being labeled injury prone is no surprise.
How about the big man himself Chris Pronger, an NHL veteran that seems to always be in the spotlight. Last season Pronger missed 32 games due to injury and he's already missed 6 games this NHL season. Earlier in his career Pronger was incredibly injury prone, only playing in 5 games in 2002-2003 and playing just 31 games in 2000-2001. Pronger just underwent knee surgery, so it will be interesting to see how his body handles this season after being injured for a good majority of last season. But at age 37 you'd have to think that Pronger's best days are behind him, although he was recently named captain of the Flyers, we'll have to see how many more injuries Pronger's body can handle before he cries uncle.
Mike Green of the Washington Capitals, has always been considered a sturdy reliable D man, but lately he is missing more and more time on the ice. After playing a full 82 games in 2007-2008, his games played have started to go downhill, in 2 of 3 of his previous seasons, he failed to play 70 games. Last season a nasty concussion limited Green to just 49 games. The reliable Green is starting to become unreliable in games played as well as his choices with the puck, it makes you wonder if his brain got rattled last season, with some of his bonehead moves as of late.
Lets not forget the new Winnipeg Jets or should I say the late Atlanta Thrashers; goalie Ondrej Pavelec, seems to be the most injury prone player amongst this team. Remember the game when he just collapsed for no reason last season? Yeah well he suffered a concussion from the incident and apparently is prone to having random spells where he will randomly pass out; known as neurocardiogenic syncope. Any player that can randomly pass out, must be labeled injury prone, hopefully he's good during breakaways, 'cause that would look awkward on Sportscenter.
Sami Salo of the Vancouver Canucks, okay you know someone is injury prone when even their Wikipedia page says so! Salo has massed over 40 injuries in his NHL career, somebody better have the doctor on speed dial. Salo is has never once played 82 games in a season and has only reached the 70 game plateau once back in 2002-2003. Salo was limited to just 27 games last regular season, he has also missed chunks of time every year since rejoining the Canucks back in 2005. This may be Salo's last NHL season as he is in his final year of a 4 year deal with the Canucks plus he turns 37 this year.
Sheldon Souray, sorry picking on the old guys here. Souray has played just 2 full seasons in his 12 NHL seasons, and he hasn't even been close to 82 games since the 2008-2009 season. He missed almost all of last season, and was limited to just 31 games in 2009-2012. He is now playing with the Dallas Stars and something tells me this 35 year old will see time on the IR again.
Looking back in the past another name jumps out- Eric Lindros, to be honest I almost forgot about him! Lindros played 15 NHL seasons, but did not play much in those 15 seasons. In his first 11 seasons he NEVER had a season in which he was not injured in some way; knee, rib, ankle, shoulder and countless concussions limited the time that Lindros spent on the ice. Remarkably though he did have 1 NHL season where he played more than 73 games :o
Despite all his injuries Lindros was still a 7 time all-star! Lindros ranks 7th on the list of all time injury prone athletes.
Just for the fun of it, let's include the most injury prone athletes Mickey Mantle! Now Mickey Mantle was before my time, and I have absolutely no clue who he is (okay maybe a little) but from what I can tell this guy had his fair share of injuries; look at this picture, it shows all his injuries from 1951-1963. But remarkably during that span in which he had several injured body parts, he won; 3 MVP awards, a triple crown and 7, yes 7 World Series championships. This former Yankee center fielder deserves props just for being able to walk let alone accomplish everything he did! But in 1964 his injuries began to catch up with him in the next 5 seasons he would miss more than 150 games due to the pain from his prior injuries. Many have speculated that he could have been the best player of all time, if not for all the injuries, others have said that perhaps he was the best player of all time, for everything he accomplished despite the injuries.
Well I hope you enjoyed this blog, it was meant to be somewhat funny, and help people back of Tim Connolly and his injury-proneness. Every athlete experiences injuries just some more than others!