Welcome to the Monday blog, trying to get back to the regular schedule for blogging.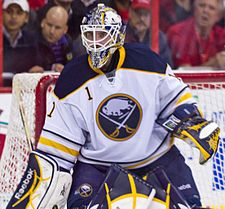 This is a blog post I thought I would never be making, or at least not this soon; Who should be the Sabres starter Ryan Miller or Jhonas Enroth? For the first time in roughly 5 years the Buffalo Sabres have a solid back-up goalie in Enroth. The 23 year old Enroth was drafted by the Sabres in 2006, and has worked his way up to being Miller's back-up. The Sabres were in a 1-4 funk which resulted in Miller being pulled roughly 6 minutes into the first period of a game against the Flyers. Since Enroth was put in the Sabres have won 2 straight games, and many fans are calling for Miller's head.
There's a saying often used in football; "When your team is struggling, the most popular guy in town is the backup quarterback" and it relates directly to hockey and more specifically the Buffalo Sabres and their goaltending issues right now. I don't think there's a goaltending controversy with the Sabres; Miller is the number 1 goalie and that's not going to change anytime soon. For one it's way too early in the season to hand Enroth the reigns and give up on Miller. Secondly, Miller is going through a rough patch of play, HE WILL bounce back, give him time, remember the Sabres started 0-9 last season and still made the post season, considering they're 8-5 and 2nd in the division I don't believe it's time to panic. Ryan Miller is still the same goaltender who absolutely stole a game from the Montreal Canadian's when he stopped 40 of 41 shots a
couple weeks ago and I don't believe the Sabres are going to give (and can't afford to give) the full number one goaltending duties to a kid who has only played 20 career NHL games. As far as I am concerned it is still Miller's job to lose. Miller has quite the resume: Hobey Baker Award winner in college, silver medalist and MVP in the 2010 Winter Olympics, Vezina winner the same year - not to mention the fact that Ryan has amassed 34 wins or more each of the last 5 season, and it's not like he has helped the Sabres or anything! He has helped lead this team to success for almost a decade, so why demand his head after a few bad starts, he has sort of earned a right to play like a normal goalie once in awhile.
Sabres fans I must ask, why must we force a goaltending controversy onto this Sabres team? We finally have 2 solid net minders, why must we ruin this? It's a perfect scenario which 29 other NHL teams would love to have, 2 solid guys between the pipes, but instead of being happy we're trashing our number one guy and planning his funeral all for some young kid who happened to be off to a decent start to the season? STOP IT! Please Sabres fans for the sake of your's and everyone elses sanity STOP IT! I'm sick and tired of all you bandwagon fans calling for the Sabres to trade Miller, or bench him! Who are you folks going to turn to if Enroth goes into a slump and loses 3 or 4 games in a row, should we trade him then, just like Miller. Ryan Miller is the number one goalie, I think it's awesome that we have the option to sit Miller and give him a break when he needs one and not be worried about losing, it's great! Remember Tim Thomas is the Bruins number one despite having Tukka Rask, The Habs put faith in Carey Price despite having Jaroslav Halak, We have Ryan Miller and Jhonas Enroth. Ryan Miller is still the number one goalie END OF STORY! Even his peers in the NHL love his play; I just love the way he plays," said
Nikolai Khabibulin
of the Oilers. "Every time he slides on the ice, [he] just looks very smooth." Probably one of the most sound goaltenders in the league,"Carey Price chimed in; "I think Miller's the complete package." The Buffalo Sabres are extremely lucky to have one of the top 5 goalies in the league in between the pipes night in and night out.
The fact that we have two solid netminders allows Lindy Ruff to have the opportunity to rest Miller or "ride the hot goalie" and right now I believe that is what Ruff is trying to do, allow Miller to sort the crap out in his head and ride Enroth while he's still hot, heck a win is a win at the end of the season I don't care who was in net for our 10th win. I still believe and so does anyone who knows anything about hockey and goaltending, the Sabres will not and can not go far without Miller, he was and still is the back bone of the Buffalo Sabres hockey organization, the fans are too quick to jump down Miller's throat. There is a reason why every hockey analyst, coach, player and any donkey with a brain, says Miller is a elite goaltender. So let's just take a deep breath here folks, every goalie in the NHL goes through some rough patches, and 90% of them, bounce back. Remember when the Bruins gave Tukka Rask the reigns a couple years ago? Thomas bounced back won his 2nd Vezina and a Stanley Cup. It's too early for the Sabres to have given up on Ryan Miller we're only 13 games in, still a ton of hockey to be played. So for all you Enroth fans who think it's time for Miller to get out of town, you couldn't be more wrong, as long as Ryan Miller is a Buffalo Sabre, he will be the number one net minder. But lucky for you, Ruff will ride the hot goaltender and is not afraid to put Enroth in a couple games to give Miller some rest. But when it comes down to the wire, I can almost assure you Miller will be in net for those games.
goaltender, I'd say he is most frustrated with his own play, than the fans or his teammates. I'd also like to note that Miller has NEVER ever blamed his teammates for goals EVER! The defence has not been playing super well in front of Miller lately, so they need to get over themselves and start playing well no matter who's in net! "Honestly, if you want to break it down, and if you really know hockey, those were two really nice shots,'' Miller said. "I'd like to at least get a piece of them, but they were nice shots. What are you going to do? Most days I think you can get a piece of those.''
I suppose I'm trying to find a good place to be and just help the team where I can. I don't really know where to go... what I need to work on is a longer explanation that you guys can put on the air... I don't really care to share it because It's a process I do on my own.  I'm frustrated with certain elements... That's obvious. I'm just trying to figure... It's not a good place to be in... I just want to get rid of the last few games and move on. It's what I want to start doing after this interview.
I feel bad for Miller, people who know very little about the game of hockey always blame goaltenders and it really rattles me, give him a break, and realize our defence makes a fair amount of mistakes that lead to goals. So remember relax, the most important time that we need Miller to play exceptional and stop everything is down the stretch, that's when good hockey teams are made into great teams or proven to be broken. so relax Miller will be just fine! Miller has never been a fan of the media, so let him be, he doesn't have to be and certainly doesn't owe anyone an interview or explanation.
So I guess I should look at the other side of the coin now; Jhonas Enroth, 4-0 with a .952 save percentage. No question Enroth's numbers have been better than Miller's to start the year. But if you look at the teams he's played against (excluding Pittsburgh) they have all been teams the Sabres should have no trouble beating no matter who's in net; Sens, Blue Jackets, Calgary all teams who are off to very slow and poor starts. So
let's calm down a little, he has had a good break playing against some pretty "soft" teams to quote Joe Thorton. But hey as a Sabres fan I'm happy he's been able to get the Sabres a few more W's and restore some of the confidence for the team. Another thing to remember is the Sabres play a more conservative defensive style of game when Enroth is in net, they have less mistakes and take less risks. Basically Enroth is doing exactly what he is paid to do so far; step in and win games for the Sabres when Miller needs a break/not playing well. For me I love that Enroth is among the shortest goalies in the NHL, I myself am short and always hated it when people told me I was too short to be any good, so props to Enroth for excelling and getting drafted despite his short stature. Enroth will likely continue to be a career back-up but that's ok, he's hot right now so Ruff will ride him and Ruff should ride him. But Miller will be back in net very shortly. As long as Enroth continues to win us some games I'm happy.
I'm happy Miller is frustrated and giving the media crap, he is mad at himself, and I for one don't want a goalie to just shrug his shoulders and doesn't give a crap about his play! Miller is furious at himself, which is just going to make him work so much harder to get back and regain the love from the fans, he's tougher and smarter than most give him credit for, so let him be and let him play his game. Maybe if fans weren't so determined to get him out of Buffalo he would have more confidence. So I'm happy Enroth is playing well and getting us wins, but this is Ryan Millers hockey team, and his starting job to lose, and he ain't about to lose it any time soon!
'You dance with the one who brought you.' so Miller is and will stay the number one net minder in Buffalo for the foreseeable future! Without Miller, the sabres will not be as good as they are now!
So shut up, relax and let the goalie situation play out.
I'd say sorry for my little rant folks,  however I'm a huge Ryan Miller fan, and I know what he brings to this Buffalo Sabres hockey team. I just hate it when so called "fans" throw their number one net minder under the bus. I'm sick and tired of the chirping on twitter and facebook, give it a break!
If you don't agree fine, talk to me on twitter I'd be very happy to discuss things with you there.