After spending his entire NHL career (9 seasons) with the lowly Columbus Blue Jackets and only making the playoffs once (2008-2009) captain and former franchise player Rick Nash went to management and told them he would be open to them trading him. Immediately talks started about the Nash sweepstakes and who would be willing to give up what Columbus wanted.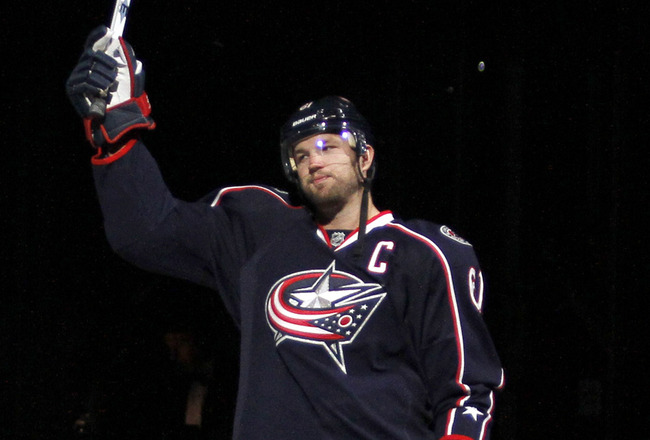 But like most star/franchise players Nash was given a No Trade Clause with his last contract, which prevented the Blue Jackets from trading him without his permission. But after the Blue Jackets started the year off 2-12-1, the worst start of any team in 19 years. Nash decided he would accept a trade out of town. The only catch, it had to be a trade to one of his "approved" teams. There was rumoured to be six teams that Nash would be willing to waive to go to: Boston, Detroit, New York Rangers, Pittsburgh, San Jose and Philadelphia. Can you tell he wants to be in the playoffs?
After many months and being accused of wanting too much in return for Nash, GM Scott Howson finally settled for a trade. It was announced Monday afternoon that the Blue Jackets had traded Rich Nash to the New York Rangers in exchange for Brandon Dubinsky, Artem Anisimov, Tim Erixon and a first round draft pick in the 2013 Draft. The Blue Jackets also included a 2013 3rd round draft pick and a minor league defenceman.
Who won the trade? The New York Rangers.
After the fantastic Playoff run the Rangers went on last season, many said they were just one "piece" away from being a true Stanley Cup contender. Technically they were just one win away from the Stanley Cup Finals, but acquiring Nash could only help right?
Imagine this:
With Gaborik, Richards, Nash, Stepan, Kreider, Hagelin, Callahan at FW, Rangers can avoid oppositions best D assignments. Maybe Doan too?
— Alex (@aj_ranger) July 23, 2012
The Rangers are stacked on offence right now, not including Henrik Lundqvist. With the acquisition of Nash, the Rangers new top line will likely include Richards at centre with Nash and Gaborik on the wings. The top line will be worth over $21 million. With Nash the Rangers are now considered legitimate cup contenders. (Like they weren't before).
Unfortunately for the Blue Jackets and Howson they got the short end of this deal. Howson said many times he was looking for quite a hefty return in exchange for Nash as a player with Nash's talent does come up often. But apparently other teams didn't have the same feelings, and there wasn't exactly a real bidding war over him. There is talk that Howson could have gotten more in exchange for Nash at the trade-deadline in February. But realistically his hands were tied. Nash controlled his fate with his NTC, other teams knew he wanted out, and Howson could only bargain with half a dozen teams.
By looking at this deal, it doesn't appear that Howson was able to get all he wanted. Although he'd never admit it, he got ripped off in the deal and many people are now saying the Blue Jackets are virtually an AHL team with the loss of Nash.
You know a trade is sad when people are debating who the best player headed to the Blue Jackets even is. Dubinsky has all the skill to be a top line players but tends to disappear during the playoffs and key moments. When Erixon was with the Flames he was considered a top prospect, but now being traded to his third team his value seems to have dropped off. While only time will tell who truly wins the deal as players can over perform and under perform but right now the Rangers got the better part of this deal.
Howson asked for the moon and because of that, anything that wasn't the moon only meant disappointment. It's never easy to replace a five time all star like Nash, but the Blue Jackets will miss his scoring and leadership. In 9 seasons he scored at least 30 goals 7 times. Due to his lack of success with the Blue Jackets Nash is most remembered for his international play. He won the gold with Team Canada in the 2010 Olympics and was named best forward of the tournament. He has donned the Red and White maple leaf 7 times and has racked up 2 gold medals and 3 silvers. Most recently he captained team Canada at the 2012 IIHF Championship.
It was a trade that left many people speechless and wondering why Howson expected a great return when he got a rather week return. But who do you think won the trade? Also bonus question, who do you think will be the next Blue Jackets captain?