Today was the NHL Trade deadline, a day hockey fans have been awaiting and anticipating for months. Finally all the rumors will have answers, some will stay just rumors while others will actually become real NHL deals. But at noon, I for one was hoping you guys did not take the day off work or school to sit in front of your TV's and watch TSN's trade deadline, it was extremely boring. Only 1 trade was made before 12: The Montreal Canadians traded Andrei Kostitsyn to the Nashville Predators in exchange for a couple of draft picks. But by 2:30 the trades really started to pick up and the 2012 trade deadline ended with 15 trades, that included 31 players and 11 draft picks.
So before I dive in and look at the trades made today and some of the trades made in the last week, let's just take a moment to think about a couple things. First of all these GM's are some of the smartest people both in and out of the hockey world, most of them know what they need to improve their team. Sure some are a little stubborn to pull the trigger on the deal, but they know what their doing. They don't need us jumping up and down and going crazy, telling them who to acquire and calling them dumb or stupid because they're not making a deal that appeases us. Like I said in previous blog, until you become a GM of an NHL hockey team or one of those dumb TSN analysts don't critize what you don't know! Second of all yes it's awesome seeing your team's GM making a big splash by trading players, but sometimes what we overlook is the fact that the players are people too. I understand hockey is a business, but the trade deadline is extremely difficult for the players. Having their names being thrown in rumors, knowing your "boss" is shopping you around, the possibility of being traded and leaving your wife and kids behind, you gotta admit that's rough. While it's cool to want players moved and want GM's to make moves, we have to take in to account that the GM's are playing with the lives of their players. They can't in all fairness to the players, just yank and turn your players lives upside down because the wind changed direction. I know this my all seem like nonsense to some of you, but it's something I truly believe the GM's take into account. A player isn't going to want to go play for a GM who doesn't care about their players.
Deals from the deadline;
Montreal Canadians trade Andrei Kostitsyn to the Nashville Predator in exchange for a 2nd and 5th round pick in 2013.
This was the very first trade that broke on the "official" deadline day. This deal reunites Andrei with younger brother Sergi and gives him a fresh start/a chance to battle for a playoff start. Kostitsyn had just 12 goals and 24 assists this season. I'd say the Predators won the trade.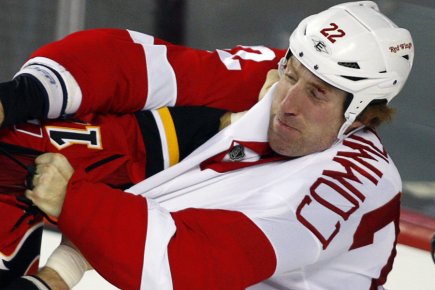 Detroit Red Wings trade Mike Commodore to the Tampa Bay Lightning in exchange for a 7th round pick in 2013.
This trade surprised a lot of people and it seemed like Detroit was trying to clear cap space to acquire Paul Gaustad, but this proved to be the only deal the Red Wings made the entire day. To be honest I didn't even know Mike Commodore was still in the NHL, so this came out of left field for me. Commodore has only played 17 games this season. I don't really understand this deal, but I suppose if there is a winner here, the Lightning won this deal.
Edmonton Oilers trade Tom Gilbert to the Minossota Wild in exchange for Nick Schultz.
I don't follow the Western Conference that much so I'm not really aware of these players. From what the analysts say this was a wash, an offensive D-man for a defensive one. But I believe the Edmonton Oilers won the trade, as they added some stability to their team.
Toronto Maple Leafs trade Keith Aulie to the Tampa Bay Lightning in exchange for Carter Ashton.
This was a fantastic move by Brian Burke. There was no room on the Leafs blue line for Keith Aulie, so they had to get rid of a defenseman somewhere along the line. I really like this deal as this Carter kid looks like he could be a fantastic player (although I didn't know who he was). Right now the Lightning have won the deal, as Ashton will be in the Marlies until next season while Aulie will get more ice time up in the NHL.
The first multiplayer deal of the day; Colorado Avalanche trade Daniel Winnik, T.J Galiardi and 7th round pick in 2013 to the San Jose sharks in exchange for Jamie McGinn, Michael Sgarbossa and Mike Connolly.
San Jose won this deal in my mind, anytime you can get T.J Galiardi and Daniel Winnik and not give up a whole lot it's got to benefit your team. This was the first major deal, where things on the TSN set started to go crazy. This trade will help improve the Sharks penalty killing
Vancouver Canucks trade two 4th round draft picks in 2012 to the Columbus Blue Jackets in exchange for Samuel Pahlsson.
This trade is all about the Columbus Blue Jackets rebuild by gaining picks for the future. Pahlsson has 2 goals and 9 assists in 61 games. Vancouver definitely won this trade.
Ottawa Senators trade Brian Lee to the Tampa Bay Lightning in exchange for Matt Gilroy
The Senators have pretty much given up on Lee. He was drafted 9th overall in the 2005 NHL draft and has just 1 goal and 7 assists in 35 games this season. Lee wasn't able to live up to his draft hype and should benefit from a change in scenery. Gilroy played 53 games and has 2 goals and 15 assists. Nothing major here, just some 3rd or 4th liners changing places.
Winnipeg Jets trade Johnny Oduya to the Chicago Blackhawks in exchange for a 2nd and 3rd round pick in 2013.
It doesn't take a rocket scientist to figure out that the Blackhawks won this deal hands down. The 30 year old Oduya is a veteran defenceman who is a solid addition to the Blackhawks struggling back end.
Boston Bruins trade Marc Cantin and Yannick Riendeau to the New York Islanders in exchange for Brian Rolston and Mike Mottau.
The Bruins won this trade as they added lots of depth and will hope push them back to the Stanley Cup Finals. Getting Brian Rolston back on the Bruins is really a hit and miss, he could regain his form playing with some exceptional players, but he could also totally flop.
Buffalo Sabres trade Paul Gaustad and a 4th round pick to the Nashville Predators in exchange for a first round draft pick.
I absolutely loved this move!!! Some how, Sabres GM Darcy Regier managed to pull a rabbit out of a hat to get a first round pick for Paul Gaustad! Everyone said the asking price was way too high for Gaustad (which it was), but somehow Regier got it done! Absolutely fantastic deal that the Sabres obviously won. Although all the fans are sad to see Gaustad go, this will help the Sabres in the future, especially with the deal that they made a few minutes later.
Boston Bruins trade Steve Kampfer to the Minnesota Wild in exchange for Greg Zanon.
This was another minor deal nothing to major, Zanon will add some more grit to the Bruins (Like they need it!).
The Bruins seem to have the slight edge in this deal.
Chicago Blackhawks trade John Scott to the New York Rangers in exchange for a 5th round pick in 2012.
Although this seems like a minor minimal deal as Scott doesn't score a lot, but he is 6 foot 7, 270 pounds, he will help in the playoffs by forcing players away from his goaltender. All he has to do is lean on a player and that player won't be going anywhere. Great addition to the Rangers, who won this deal.
Buffalo Sabres trade Zack Kassian and Marc-Andre Gragnani to the Vancouver Canucks in exchange for Cody Hodgson and Alexandra Sulzer.
This was quite possibly the biggest trade of the day and by far the best (sorry I'm biased). This deal works perfectly for the Sabres, we got our future number 1 centre to build the team around. Although it comes at the expense of losing Kassian, this deal will help the Sabres in the future. A position of weakness now a positions of strength? Hodgson, Roy and Ennis are now the top 3 centers, add Adam and the future is suddenly different to the Blue and Gold up the middle. For those lamenting losing Kassian't toughness, remember Marcus Foligno and Brayden McNbb are more than capable of matching up with anyone. Unfortunately what this means for Sabres fans, is the Sabres aren't necessarily trying to make that push to the playoffs but rather building for a couple of years in the future. That's also known as trying to win the Stanley Cup, not just get a couple of more house receipts during the playoffs. I personally believe the Sabres have won this deal and have ultimately won the Trade deadline and Darcy Regier is the Trade deadline winning GM!
Toronto Maple Leafs trade Dale Mitchell to the Anaheim Ducks in exchange for Mark Frasier.
This was just a minor league deal and has no real implications to the major league teams at this moment.
Just moving depth in the minors.
The final deal was between the Anaheim Ducks and Vancouver Canucks. Who exchanged two minor players. The Canucks got Andrew Gordon while the Ducks acquired Sebastian Erixon.
The trade deadline started off really slowely as deals didn't start rolling till around 2pm. Most of the big names did not get moved; Rick Nash, Luke Schenn, and Derek Roy all ended up staying put. The Big trade of the day, was between the Buffalo Sabres and Vancouver Canucks. Ultimately I think the Sabres won the trade deadline, as they got a first round pick for Gaustad and managed to snatch Cody Hodgson out of Vancouver. All in all a fairly decent trade deadline, especially if you're a Sabres, Canucks or Predators fan. Brian Burke surprised and angered Leaf fans by not making more moves and "sticking to the Blueprint" of his current team.
We'll have to wait a while longer to see how the deals that were made today turn out!