Well it's no secret that the Sabres have had a less than stellar first half of the season, and need nothing short of a miracle to squeak into the playoffs. Whether it be Miller not playing like Miller, almost every player taking their turn on the injury go round, or expectations set to high, the Sabres have not played the type of hockey people were expecting before the season started, and find themselves 14th in the Eastern Conference and 9 points out of 8th. Despite goaltender Ryan Miller stating "there is no trade that can change this team", there needs to be a major shakeup in Buffalo and that would all likely be a trade. So lets look at players who could be moved and players the Sabres are going after.
Derek Roy
Roy only has 25 points in 45 games, not what the Sabres need from the center who has put up 3 straight seasons of 69 points. But moving Roy for some draft picks or a prospect isn't going to do the Sabres any good, the Sabres need to be looking for a decent impact player that can help down the stretch. Trading the most talented center on the team for draft picks or "any cost" would only hurt the Sabres chances as we'd be stuck with young Luke Adam and Jochen Hect as our top 6 centers, I for one am not comfortable with them leading the team down the middle. Roy's contract is easily manageable for team, at $4 million next season Roy could be a player that is sought after at the deadline; he is a veteran presence, that can put up points and perhaps add leadership perhaps a change in scenery is all Roy needs to regain his scoring touch. Baring a complete and utter miracle the Sabres will likely miss the postseason for the first time in 2 years, so any players that aren't in the blue prints for the future should be shipped out of town. When Roy is playing well he is one of the best small centers on the market.
Jochen Hect and Brad Boyes
These two would be good moves to free up some much needed cap space for the Sabres. They aren't necessarily crucial to the success of the Sabres, and could easily net us some draft picks or a prospect.
Not to mention they are both UFA at the end of the year.
Drew Stafford
Last season Stafford had a career year despite missing large chunks of time due to injury, missing 20 games but still recording 57 points so expectations were high, for Stafford to come out and produce this season. It is highly unlikely Stafford will be a consistent 30 goal scorer, but when he's on his game he can produce and there are teams out there that would be more than willing to acquire a 3rd liner who can put the puck in the net. With Staffords $4 million dollar cap hit it will be tough to move him, but it is a move the Sabres must make, to have future success.
Ryan Miller
Miller I can guarantee you will not be dealt before the deadline. Like it or not Ryan Miller will be a Buffalo Sabre at the end of the 2012 season. Now not everyone agrees on Miller's skill and some are stating he's over-rated, but like it or not he is one of the most highly-regarded goaltenders around. Teams that need goaltending would be willing to ship half their team over to get Miller. The whole team is playing poorly and Miller is just a product of the poor play, if the teams poor play is a sign of things to come, we better pray that a major deal will be made, but Miller is the franchise of the Sabres, the backbone of the team, without Miller the Sabres are back a good 5 years. But the main reason Miller wouldn't be dealt midseason is his cap hit, $6.250 million a year for another 3 years, you don't see those kind of contracts moved midseason. If Miller was to be shipped out of town it would be in the offseason, and sadly enough it would not make the Sabres a better team.
Thomas Vanek
I know I know this is crazy to even think about, but the Sabres have already been shopping Derek Roy and Drew Stafford around, and so far have received little to no interest. Yes talks always heat up closer to the deadline, but if the Sabres can't find any takers for Roy and Stafford then they will have to think about letting Vanek or Pominville go. Pominville is likely not going anywhere as he was just named captain, but the Sabres need to make a big trade splash and Vanek is the player that will allow us to perhaps get the best return. Trading a player with the skill and ability of Vanek, would mean getting a player with his skill and ability in return, and hopefully for less cash.
I'd prefer to not see Vanek shipped out of town, but I'm all for making the Sabres a cup contending team.
Travis Moen
A big tall tough 3rd line winger, who's salary is half of Jochen Hect's. The Canadians are desperate to get rid of players to free up cap space to resign their star players. Moen is a player the Habs are more than willing to get rid of, and would want a couple draft picks in return. If Moen is still around come deadline time, it would be in the sabres best interest to acquire him.
Tuomo Ruutu
Despite Ruutu's ability to score, that isn't the real reason teams (like the Sabres) are after him. At 6 feet 205 pounds, is more than capable of crashing the net, and hitting bodies something that has been lacking from the Sabres lineup. He'd fit in perfectly on the second line, and costs less than Brad Boyes. Although his scoring touch isn't the most important aspect, Ruutu has shown no problem being able to put the puck in the net; in the last 2 years Ruutu has scored 104 points in 136 games.
Brandon Prust
Let's be real here Sabres fans, we DON'T have a legitiment enforcer type of player, you all saw what happened with Miller, heck the whole league saw it and isn't about to let us forget. We Need someone who isn't afraid to hit and fight; Gaustad and Kaleta do a decent job at patrolling the ice, but no where near the job Prust would do. Although he wouldn't add much of a scoring touch he'd be cheaper and better at what he's payed to do that Kaleta and Gaustad. Not to mention Prust is a great guy in the dressing room, and issue I believe the Sabres soon need to address, as the whole team seemed to be divided.
Bobby Ryan
Now of course we're after the Ducks Bobby Ryan, what team isn't? but there's the problem a lot of teams want Bobby Ryan wearing their sweater for the end of the season. I don't think we have the players it would take to land Ryan. We would likely need to trade Ryan Miller, but the Ducks already have their long term goalie in Hiller. In order to get Ryan and stay under the cap we would have to make several moves and then hope that the Ducks still have him when the Sabres are done freeing up cap space. So it's highly unlikely we'll see Bobby Ryan in a Sabres uniform anytime soon. But anything can happen.
Dustin Penner
Penner is a solid forward who is just having a rough season with the Kings. He's be a decent addition to kick start the Sabres offence, plus he wouldn't cost a whole lot, so we would have some extra cash flow. Penner a one time 60 point player, only has 12 points in 36 games; sound like a guy who could benefit from a change in scenery.
Ales Hemsky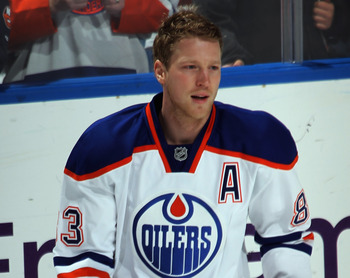 It's no secret the Sabres are having trouble scoring goals, so the smartest move would be to acquire a decent forward and sign him for maybe 2 years and see how it works. Hemsky would be a good player for the Sabres to consider going after. Hemsky's contract is up at the end of the season and the Oilers are likely to miss the playoffs again, meaning they are willing to move "older" guys, plus they wont want Hemsky to walk away for nothing. Hemsky is having a rough season in Edmonton trying to recover from his second shoulder surgery, I think Hemsky would benefit from a change of scenery plus it's worth the risk as we wont have to sign him if he doesn't work out.
I think the best bet for the Sabres is to move Derek Roy, Brad Boyes and or Drew Stafford, getting rid of these players should open up just enough cap space to bring in a Moen or Hemsky, to try to make a push to the playoffs. unfortunately baring an utter miracle playoffs are almost out of reach.