It's the time of the season where trade rumours are kicking up, I previously covered the 
Sabres Trade Rumours
 so now it's time to cover the trade options of the Toronto Maple Leafs or as GM Brian Burke likes to call them, "the center of the hockey universe". (As a side note: The worst kept secret in hockey since the last winter classic in Philly, was the 2013 Winter Classic. It was rumored and pretty much a done deal that the Toronto Maple Leafs would face the Detroit Red Wings in the 2013 Winter Classic in Detroit. But the event became official today, in a press conference held by NHL commissioner Gary Bettman, and the two GM's Brian Burke and Ken Holland; The game will be back to it's original date of January 1st and will be played at the famous Michigan stadium, Jerseys and logo's have yet to be released but will be released in the next few months. So that will be a great event for the NHL, having two original six teams battle it out in the great outdoors where the game began.) But back on topic for todays blog, possible trade options for the Leafs.
It is very likely Burke will NOT make a major trade, at or during the Trade Deadline. The Leafs are right in the middle of a playoff hunt, currently sitting in 7th and are playing darn well, and you know what they say "don't mess with a good thing" and right now the Leafs are a good thing. The lines are gelling, the goalies are both playing well, and the kids on the ice give it their all every night, what more could you ask for? But still, I can't stop the blog here so, we must speculate and see what the crafty mind of Burke could be up to come February 27th I highly doubt we'll see another Dion Phaneuf deal. Just like the Sabres blog, I'll be looking at players Burke will trade and players he'll trade for.
Luke Schenn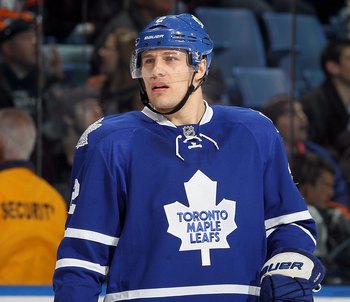 Poor Luke Schenn, before the puck even dropped on the 2012 season his name was swirling around with rumors. Will he re-sign, will Burke trade him? Now 55 games into the season, Schenn's name is still the frontrunner for a trade come the deadline. The Leafs have more than their share of defenceman, when all are healthy there are two sitting in the press box, so Burke has to do something about his D. What Burke does need is forwards that consistently put the puck in the net, maybe if Schenn was more of an offensive minded d-man he could stay, but I think Schenn's time in Toronto is all but done. Right now it's looking like Schenn to the Flyers for James Van Reimsdyk, thus allowing Luke to be reunited with younger brother Brayden. Now no guarantees Schenn will be on his way out of town, as he's a solid young defenceman that could turn out to be quite the player once he has more time/experience. Another option for the young defenceman is Edmonton, trade Schenn to the Oilers for Sam Gagner, the way Gagner is scoring right now the Leafs would easily take him from the Oilers.
Mikhail Grabovski
Now Burke may be a little hesitant to trade Grabovski unless he was getting a super duper instant star in return. Grabo, is a pretty decent player and has been meshing well in Toronto and putting up the points. But he is a free agent at the end of the year, and his agent is in town telling Burke to either put up the money or kiss Grabovski goodbye. But Grabo is likely a player that would have to be included if the Leafs wanted to acquire the once rumoured Ryan Getzlaf from the Ducks.
Nikolai Kulemin and Clarke MacArthur
Burke has been shopping these two around for a while, but so far no bites on either. Kulemin had a career season last year playing with Grabovski, but has cooled off this season. Despite being a 3rd liner on the Leafs MacArthur actually has some pretty good trade value. Why? Because on most other teams he'd fit perfectly on the 2nd line, and be counted on to put up 50 points, in Toronto he's not counted on for that production, and is stuck on the 3rd line. The Leafs don't want a 3rd liner making 3.25 million a year.
Both Kulemin and MacArthur have picked up their play slightly as of late, so the asking price just went up a little.
Nazem Kadri
Although my opinion is not popular amongst Leaf fans, Kadri's time in Toronto is done! Burke has to be fed up with the kid, the Leafs are in dire need of a top notch scorer, something Kadri was supposed to be when he was drafted 7th in the 2009 draft. No that's not a typo 2009 was the year Kadri was drafted by Burke and he has failed to fully crack the Leafs roster, not to mention Burke didn't even want the kid, he got fooled into taking him after playing head games with some other GM's. Everyone was excited about how Kadri would make the Leafs right out of training camp finally, but just like in years past Kadri was one of the last cuts. In all fairness to Kadri it was mainly because he got hurt, but he still failed to make the opening day roster. I don't think Kadri is a complete waste, as he'd likely benefit from a change in scenery, new management and a place with a lot less media coverage. Now Kadri, himself wouldn't bring much back to the Leafs, so he'd likely be a throw in like Lupul was in the Jake Gardiner deal. But if Burke was able to get his hand on Bobby Ryan then trading Kadri would be a no brainer. Not to mention Burke has had his way with the Ducks and trades.
Matthew Lombardi
The Leafs got Lombardi for pretty much nothing, not to mention getting Franson in the deal. But Lombardi will never be much more than a 3rd liner for the Leafs. Much like with MacArthur, Lombardi is making way too much to be a 3rd liner, so it's time for Burke to dump his contract on another team. He's not really that good of a bottom six forward either, or at least not in Toronto, I think Burke could flip him for a 2nd rounder or another bottom 6 tough forward.
Now for the fun part seeing who Toronto could get in return :)
Bobby Ryan
I honestly don't think Burke will be able to pull off this deal, the Leafs don't have what the Ducks want in exchange for Ryan. Plus the Ducks are finally starting to play well, so trade talks have slowed down. All the talks about the Ducks being "blown up" have also died down. Meaning if the Leafs want Ryan they're going to have to pay big! It will likely take Grabovski, Schenn, Kadri and a pick to pry Ryan away from the Ducks, that's a lot of fire power right there, and Burke wouldn't be willing to part with all those assests if he wasn't getting a decent return. Although it would be fantastic to get Ryan in a Leafs Jersey I simply don't think it will happen, the asking price is too much. After the last trade with the Leafs, the Ducks may be a little hesitant to trade with the Buds again. (Fun fact, Burke is the GM who drafted Bobby Ryan, when he was the Ducks GM.)
James Van Reimsdyk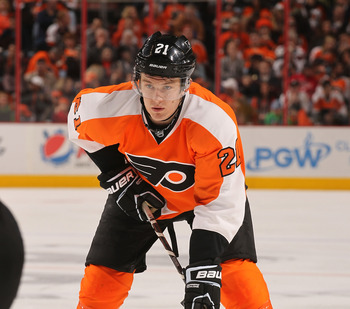 Now this trade has been rumored to be in the works for quite some time, but talks between the Leafs and Flyers have all but stopped. The Flyers would gladly take Luke Schenn to try to fill the void of veteran defenceman Chris Pronger. The Leafs would also love to have Van Reimsdyke, a young kid who can score, just what Burke wants plus he's locked up for another 6 seasons at just over 4 million. One slight issue, Van Reimsdyke has a history of concussions, and is currently recovering from one. It would likely take Schenn and a pick to get Van Reimsdyke out of Philly. To be honest I don't know if it's worth it, Reimsdyke has struggled this season, when he wasn't injured so he may not be an instant success in Toronto. Burke wants players that will help push the Leafs into the playoffs, not players who slack off.
Rick Nash
Another player who is fairly unhappy in Columbus. He's a long term veteran player who has never and will likely never have a chance to hoist the cup with the Blue Jackets. Many are saying Nash is fed up and wants out, and the Blue Jackets owe it to him to send him to a contending team.
Rick Nash + Huselius for Schenn + Kadri + Grabovski + a pick Now just like the trade for Bobby Ryan this is likely more than Burke would be willing to part with. Wouldn't take a lot of convincing to get Rick Nash to say yes to a trade out of Columbus.
Jeff Carter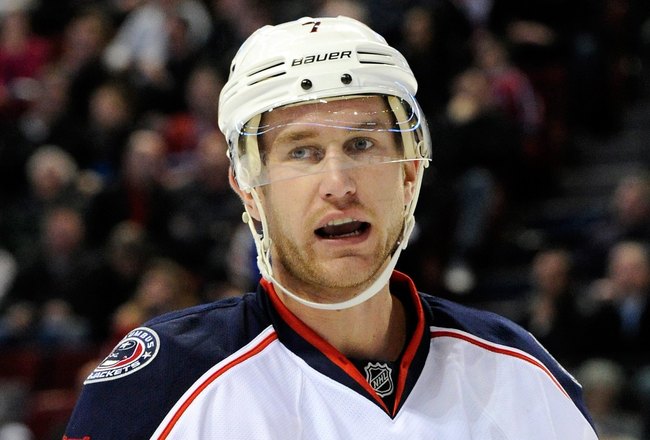 Imagine if Burke was able to pull the trigger and get that number one center he's after. Jeff Carter would fit the bill perfectly, as he's more than ready to get out of Columbus. But let's have a reality check, there is almost no way that the Leafs can get their hands on Carter, there are way to many road blocks. First of all Carters contract is humungous, in order for Burke to be able to eat his contract is if he moves some other players first. Getting rid of Tim Connolly and his contract would help in getting Carter, but does Columbus want Connolly? The Leafs would have to give up way to much in return for Carter; a first round draft pick and a top six forward at least. (Grabovski, Bozak, Connolly)
Getting Carter to Toronto is nothing more than wishful thinking; too much money, too much to give up, and not the type of player Burke wants wearing the blue and white. He's a sulky, cry-baby type of player who was not happy leaving the Flyers.
A few other names include; Tuomo Ruutu, Sam Gagner, Ryan Malone, Ryan Getzlaf
But these are background deals that wouldn't really make a huge skake-up. Getzlaf would be too much money. Out of the list the 4, I could see Ruutu or Gagner suiting up in a Leafs jersey, not super expensive and both could benefit from a change of scenery.
But here's the kicker the Leafs DON'T need to make a deal, this team is just fine the way it is. As long as Reimer and Gustavsson keep playing well, this team should have no problem making it to the playoffs. The Leafs wouldn't enjoy a long stay but could at least drop in and say hello. The majority of players on the Leafs roster don't have playoff experience, so we don't know how they would do. There are always names that come out of nowhere to produce in the playoffs; we don't want to trade away a hidden gem. Above all else, this year's trade deadline is just a step toward building a true Stanley Cup contender.
Please take a moment to like our Facebook fanpage; 
ThePuckStopsHere30