It's hard enough for any team to find a top notch goaltender who can help win them games, most teams are looking for young, tall goalies who drop to their knees every shot as apart of the "butterfly" technique. But the New Jersey Devils are relying on a old goalie who has his own unique way of stopping the puck, in fact they're doing a lot better than just getting by as they currently sit just 2 wins away from a trip to the Stanley Cup. In fact a Stanley Cup win would give their legendary goaltender his 4th ring!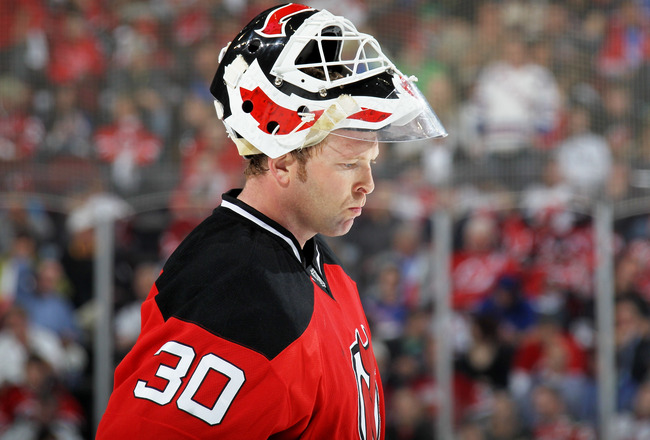 Martin Brodeur is proving once again that age does not matter in sport, he can still make draw dropping  saves and win his team hockey games proving he is still a valuable commodity between the pipes. The legendary Brodeur turned 40 earlier this month and since turning 40 has held his opponents to less than 3 goals in 6 consecutive games. Upon turning 40 and still playing, Brodeur has become the first goalie to play a playoff game in his "teens" and to play a playoff game in his 40's. His first playoff appearance was in 1991-1992 where he played in 1 game and allowed 3 goals in 33 minutes and finished with a 5.62 GAA, clearly he's come a long way!
When the Devils made the playoffs not many including myself gave them the slightest chance to go far. But it's been a crazy unpredictable playoffs and Devils have made it all the way to the Eastern Conference championship and are actually outplaying the top seeded New York Rangers. A large part of their success is due to the unbelievable play of Brodeur, who is playing more like he's 30 rather than 40!
It has been a fantastic career for Brodeur who is finishing up his 19th full season in the NHL, he has made the playoff 16 times and has broken almost all the records for goalies both in the regular season and in the playoffs. In the first round match up against the Florida Panthers after a 3-0, he passed Patrick Roy's record for most career playoff shutouts with 24. On Monday night against the Rangers, Brodeur set a new record for the most points by a goalie in the playoffs with 4 assists. Despite all the records and trophies Brodeur has to his name, he has never won the Conn Smythe trophy for most valuable playoff player, could
this be his year?
When the Rangers and Devils kicked off their series the story lines were all about the two masked men, the keepers of the crease Henrik Lundqvist and Martin Brodeur and whether the King could out duel the Legend. Both exceptional goaltenders and extremely valuable to their teams, both having exceptional playoffs, trading shutouts and proving just how valuable they are to their teams. Everyone expected Lundqvist to be on top of his game, but no one expected the guy at the other end to play nearly aswell as he has.
Sure Brodeur is going to have his off games, he's going to look old and tired almost every goalie has off games, but he doesn't look like he's 40. The saves he's been able to make are fantastic, highlight reel material and most importantly he's been able to move from side to side very fluidly. He's played 16 games these playoffs and has won 10 of them and is just 2 wins away from another trip to the Stanley Cup finals.
Brodeur is writing another chapter in his historic career, how will it end, only Brodeur himself can decided that!