Coming in to the 2011-2012 season the Leafs had it all figured out; they got their number 1 centre in free agency, when they acquired Tim Connolly. He seemed like he'd be a perfect fit to centre the first line, between Phil Kessel and Joffrey Lupul. With Connolly in tow, Tyler Bozak would likely find himself on the 3rd line. But, now that we're more than half way through the season it's Bozak centering the first line, and Connolly who finds himself centering the third line!
Even before Bozak even stepped on the ice to play a game, his name was all over the internet tied to trade rumours- the Leafs had too many centres with the new additions of David Steckel and Tim Connolly. And all be it, Steckel is known as a better face off man than Bozak. While Connolly, has some of the best hands in the league. This left Bozak as the odd centre out.
But when the season started, the injury prone Connolly found himself injured once again, leaving an opening for the first line centre position. Cue Tyler Bozak, the 6 foot 1 25 year old, was given the opportunity to centre the top line. It's said that sometimes chemistry is more important than skill and there was almost instant chemistry between Lupul, Kessel and Bozak; Kessel started scoring in bunches and Lupul followed suit, they became one of top scoring duo's in the league, the Leafs started winning and everything was all good in Leafs land. But it seems to me that everyone forgets is the man behind this "dynamic duo"... Tyler Bozak.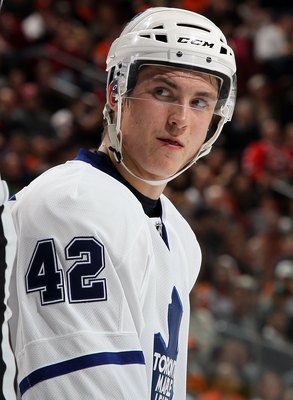 Although Bozak hasn't had the same effect on the score board this season; only potting 7 goals. It's the little things he's doing that don't make the score sheet. He back checks, makes great first/ breakout passes, covers up when his line mates make mistakes, and perhaps most importantly his presence on the line has allowed Kessel and Lupul to play their game and be comfortable during games. If you look at the handful of games that Connolly centred Kessel, you see the lack of chemistry and trust. Kessel is not as comfortable having Connolly being his centre, something's just off between them, Kessel makes too many extra passes, and ultimately looks confused when he plays with Connolly. If you think about it, it makes sense. Look around the NHL and you'll see big name, big money players usually aren't on the same line; Crosby doesn't play with Malkin, Toews and Kane no longer play together, Leino doesn't play on a line with Vanek. Players that get brought in for big money, and are asked to lead their teams, often clash with the current players. Kessel is the big name in T.O he doesn't like having Connolly on his line. So it makes sense that a no name like Bozak is centering the big name Kessel. But the unsung hero has seemed to gain the confidence of his head coach Ron Wilson;

"(Bozak) has earned that position," Wilson said.



"When we started this season and were putting lines together, I thought Connolly would be the logical choice. But Bozie's played so well when Timmy was with other guys. The chemistry has been better. "He's been playing a 200-foot game and is closer in support positions defensively than last year. He was playing that well when he first came up (in 2009-10) and last year it kind of got away from him (a minus-29) when he was thinking about offence. It happens in a guy's second year, his identity gets cloudy, but now he's back to basics." And that's just it, Bozak is playing simple hockey, he makes the smart easy passes that won't come back to bite him in the butt; Kessel and Lupul are enjoying a successful season and have amazing chemistry, but they often make too many passes which proves costly.

With Bozak playing on the top line between Lupul and Kessel, he is arguably having one of his best seasons, despite only 7 goals, he has 19 assists and 25 points in 35 games, and is on pace to have his first 50 point season. Not bad for a kid who was supposed to be long gone or centering the 3rd line. But still there are doubters, saying that the Leafs need a true number one centre if this team wants to make the playoffs, and to be honest I agree, but not this season. This season Bozak is right where he belongs centering the first line,
so I don't recommend him being traded or moved to another line, if Bozak get's moved Kessel and Lupul with suffer. Remember Bozak missed 2 weeks with an injury, Kessel and Lupul went pointless in 3 games with Connolly filling in for Bozak. In another intresting move from Wilson; he split up the first line of Kessel, Bozak and Lupul; by moving Lupul to the third line, but kept Bozak on the first line. While splitting up his top line he kept Kessel and Bozak together, which speaks volumes to the chemistry between Bozak and Kessel, but also to the trust Wilson has in Bozak.
Right now the best thing for the Leafs is for Tyler Bozak to centre the first line between Lupul and Kessel. Keep one the league's top
duo's performing and leading the Leafs and hopefully sending the team to the playoffs. Bozak has a way of making this Leafs team even better, the proof is in the pudding so to speak, without Bozak on the first line Kessel and Lupul's play drops off, and without those two performing the Leafs won't be winning games and stand a very good chance of missing the playoffs yet again. With Bozak possibly hitting 50 points this season, and being the unsung hero of the first line, it could result in a better trade at the end of the season, for a true number one centre for next season. With Bozak upping his play he could easily find himself on another teams top 6. But for now the formula for success this season goes through Tyler Bozak!