Quickly vote in the poll on the right please!
Last night during a regular season tilt between the Boston Bruins and the Montreal Canadians, there seemed too be nothing out of the ordinary. But then Canadian's Mike Cammalleri was a no show for the third period; meaning one of two things; either he was injured or he had been traded. Sure enough it was the later of the two options, and Cammalleri was being shipped out of Montreal. Cammalleri, had been told to get out of his equipment, get in a cab and go back to the hotel to await further instructions. 
The Montreal Canadians agreed on a deal that will send Cammalleri, back to Calgary in exchange for Rene Bourque. 
To Calgary
; Mike Cammalleri, Karri Ramo (currently in the KHL), and a 5th round pick in 2012.
To Montreal
: Rene Bourque, Patrick Holland(currently in the WHL), and a 2nd round pick in 2012.
The timing of the trade couldn't have come at a more peculiar time; On Wednesday Cammalleri made some comments to the media about his reduced ice time, and how the Canadians were going into games with a losing mentality. "I can't accept that we will display a losing attitude as we're doing this year. We prepare for our games like losers. We play like losers. So it's no wonder why we lose." Cammalleri also told the reporters to "read between" the lines, that he would accept a trade if at all feasible. Now as usual this story got a little bigger than it likely should of once the media got wind of it. But I really do believe Cammalleri wanted out of Montreal, and I don't think this will be the last player leaving the historic city.
Player comparison;
Let's take a look at the stats of Bourque and Cammalleri, so for this season.
In 38 games Cammalleri has 9 goals, and Bourque has 13.
In two plus season with the Canadians Cammalleri, has 54 goals in 169 regular season games; which works out to a .32 goals/per game average.
In the same time period Bourque has fared slightly better out in Calagary; 67 goals in 191; a goal per game average of .35; .3 percent better than Cammalleri.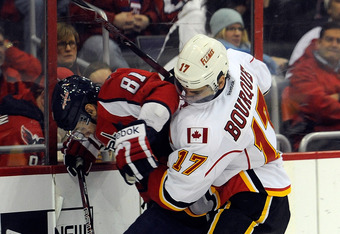 In the post season there is no comparison; it's like comparing apples and bananas; Cammalleri is a proven post-season man, scoring 13 two season ago and 3 last year, while Bourque hasn't been to the post-season since 2008-2009. (the last time Cammalleri was a flame).
Bourque has shown more consistency; producing back to back 27 goal seasons, and well on pace to do it again. But heres the key to the trade; Bourque is tougher, bigger and stronger than Cammalleri, can put the puck in the back of the net and has a cap hit of $3 million less than Cammalleri's. With this deal, the Canadians now have around 8 million to spend come trade deadline; which makes me wonder what else Habs GM Gauthier has planned.
I thought it was a little odd, how fast the Gauthier made this deal happen; I understand the issue with the Cammalleri secretly wanting out, but if Gauthier held out another 3 or 4 days, I think he could have gotten a great deal more in the deal. It's very likely that the 28 other GM's didn't even know that Cammalleri was available, so the Flames got lucky, and actually gave up very little to get a star/ top notch player in Cammalleri. So the trade was rushed and very poorly executed on the part of Gauthier. This deal paints I bad light on the Canadian's, as they quickly jumped at the first deal possible and didn't even talk to Cammalleri about the deal.
Who won the trade:
I personally think the Flames won the deal, or at least the short term affects; Bourque can't even play as he's in the middle of a 5 game suspension. 
Cammalleri played in Calgary and had one of his best years ever there, 39 goals and 82 points. He is now returning to that place, the atmosphere, some of the same teammates and not to mention Jarome Igilna! Igilna and Cammalleri and almost the perfect match. Igilna was happy to have his old lineman back, and you can bet Igilna helped convince Flames GM Jay Feaster about this deal; 
"We had good chemistry. He has a knack to get open and get a one-timer. But he's not just a shooter too. He's able to make passes and get points and produce. I know he enjoyed playing here. The fans liked him and he liked Calgary. 
You felt like anywhere you passed it around, he could get it off and and get it on net. That's one of his biggest strengths. Power play but also just able to get open."
The prospect that hab's got in the deal is not likely to be a top 6 forward in the NHL. Patrick Holland is expected to be a solid 4th line player at best, while goaltender Karri Ramo is expected to be a decent goalie in the NHL one day and maybe take over the Flames goaltending duties one day.
So to me the Calagary Flames won this trade; it will make immediate dividends and perhaps push the Flames back to the post season.
Vote in poll on the right to have your say in who won the trade!