Well the Buffalo Sabres have officially hit the halfway point of the 2011-2012 season; playing 41 games with a 18-18-5 record and currently sitting in 11th place in the Eastern Conference. So it's time to take a little look and see if the Sabres have improved from their
Quarter season review
. But let's be honest here for a moment, there is no question this team has been under performing as of late, but there are some bright spots being shown right now. Players are starting to return from early season injuries (Myers) and the goalies are starting to find their groves. You may not agree with my ratings, but tough luck this is my blog! To all my Leaf fans out there, I will have a Leafs mid season report out later this week.
Forwards;
The Sabres offence can be summed up with two names; Vanek and Pominville, this dynamic duo could and should find themselves playing in the All-Star game in Ottawa; Pominville has 14 goals and 43 points, while Vanek has 19 goals and 40 points. To put that in perspective, of the 105 goals the Sabres have scored so far Vanek and Pominville are responsible for 31 percent. Now on any other team having a top duo scoring tons of goals is great, but on those other teams they generally have secondary scoring as well, the Sabres haven't had that all season. The next best player is rookie Luke Adam, who briefly centered the line of Vanek and Pominville. Rookie Adam has 10 goals and is on pace for a 20 goal season, but has failed to register a point in his last 9 games. Albiet with players of lesser ability than Vanek and Pominville. I'd hate to see where this team would be without their dynamic duo no I just can't go there and imagine that, it would not be pretty. In fact this offence is on pace for their lowest goals scored over the entire season post lockout era; currently on pace for 210 goals, a far cry from the 231 which was their previous worse. The Sabres need help from winger Drew Stafford, last season he scored 31 times in just 62 games last season (a contract year). Coming into the 2011-2012 season, many were expecting bigger things from Stafford perhaps a 40 goal season; but right now he is a far cry from the expectations thrust upon him. Stafford has just 7 goals in 40 games, and isn't even threatening to reach 20 goals. Last Season Cody McCormick excited fans by scoring 8 and 20 points while being designated the team fighter, but this season McCormick has failed to score, has just 2 assists, is a -7 and has been a healthy scratch twice this season. Both Stafford and McCormick's last two seasons have been night and day compared to what they are accomplishing or failing to accomplish this season. Then there was our big free agent prize Ville Leino, saying he has failed to produce would be an immense understatement. Leino was brought in to be the new first line centre, he's currently playing one of the 4th line wingers! In fact he and his line mate, Brad Boyes make up what hat to be the most expensive 4th line in NHL history. Both of these guys have a $4 million cap hit. This was a huge mistake, we bring Leino in and pay him big money to be our first line centre and he's playing 4th line wing, sorry that just blows my mind! Good news is, Leino was starting to find his game before his injury, so hopefully the injury won't set him to far back.
Grade; C-
I'd say at the most they are a c- and even that's being a little generous they are probably closer to a D.
Defence;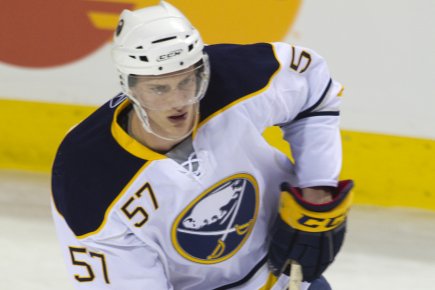 Despite Tyler Myers poor play before his injury, it is clear that the Defence missed the presence of the "big easy". Since returning to play last Friday, Myers has been fantastic and even scored his 3rd goal of the season. With the Return of Myers the defence looks re-energized and just seems more solid. Brayden McNabb is a kid who kind of gets lost with all the injury talk, but McNabb has really solidified his place in the lineup, he hits hard and is staring to play complete hockey games. Since the return of Myers, these two have been paired together and have been full force for shutting down the opposition. Playing with Myers should only further the development of McNabb. The quite leader of the blue line while Myers was injured, was Robyn Regehr. Regehr has often taken heat for his choices on defence that have lead to goals, but for the most part he has been very solid in the back end. Christian Ehrhoff was brought in, to help bring more offence from the defence, he has a killer slap shot that saw him score 14 goals in Vancouver in his last 2 previous seasons. But Ehrhoff is now injured and could miss up to several weeks, he was a key defenceman that logged major minutes for the Sabres. Ehrhoff's shot hasn't been as effective in his time in Buffalo, as he is on pace for just 6 goals! Marc Gragnani has taken several steps backwards since, his major contribution in the post season last year for the Sabres. In all fairness to Gragnani, the bar may have been set a little high. However, in a testament that shows how meaningless the plus/minus stat is, Gragnani is leading the team at +12 and was recently one of two Sabres named to the all-rookie team of the first half.
Grade; C+
Goaltending;
I hate beating up on my favorite goalie; Ryan Miller, so I'm not going to. Statistically yes, he is having his worst season ever as a starting goalie, but he is still the same guy who won the Vezina in 2010 he hasn't changed. I'm a firm believer that blaming the goalie for the team losing is not right, and you should never throw your starting goalie under the bus. Once your number 1 goalie has 2 or 3 weak seasons, you look for other options, but right now it's too early for the Sabres to panic on Miller, he could back stop us smack dab into the playoffs, or have an amazing year next season. People who suggest trading Miller are out to lunch and no nothing about hockey. Remember when the Habs traded Halek over Price? Well they took a lot of criticism for that move, but it was the right move, you stick by your number 1. Since they showed confidence in Price, he has been a solid goalie and hasn't missed a beat. You never give up on your starter! There is still signs of the amazing goaltender that Miller is, you'll be watching the game and he'll make an outstanding save that just brings you too your feet, then he'll let in a stinker of a goal, that makes you cringe. Right now for Miller it's all about consistency, in my mind I see him improving from the beginning of the season, believe it or not, he is playing better! Jhonas Enroth, the other Sabre on the "all rookie team," started off the season strong as Miller's BACKUP key word backup. He played well he even brewed up a minor goaltending controversy, then Miller went down with an injury and Enroth got his chance to shine, and blew it. Since Miller has come back and Enroth has gone back to his rightful backup role, he's been hot and cold and just as unreliable as Miller. This tandem of goalies has let in 3 or more goals in 15 of the last 19 games, not the type of goaltending needed to make the post season.
Grade C-
this is again a very generous c-, in many people books this could easily be a D or lower.
I'm not a type of person who likes to evaluate the coaches and front office, like seriously what does that accomplish. You're not a GM or manager, you don't know what they put up with or how hard they work to give us the fans the best possible team. Until you have the opportunity to be a coach or GM shut up and just let them do their jobs! Maybe Lindy Ruff's time is up, maybe Regier needs to go and maybe Pegula needs to stop being a fan and start changing the team, that's not for us to decide, I will say though, that if Ruff were under consideration to be fired, I'd fire Reiger first and then let the new GM decide Ruff's fate. The coach can only work with the players he's been provided.
Overall I'd grade this team at a C- threw 41 games. Here's the kicker; A year ago today the Sabres had the exact same record and points, and trailed Montreal by 8 points for the final playoff spot. We ended up finishing in 7th with 96 points to earn ourselves a hard earned spot in the playoffs. But the difference between now this year and now last year; The Sabres were already turning their game around a year ago; they had won 4 of 5 games. But this year we have lost 8 of 10 games, another bad week and we can all but kiss our playoff hopes goodbye. But there is a key factor everyone seems to forget, and it's the turning point in the Sabres first half of the season. The Milan Lucic hit on Miller changed the mindset of this hockey club; before the incident we were 10-5 and in 5th place in the conference, threatening for a top spot, since the incident we are 8-13-5 and have failed to win back to back games. Dang, look at the box scores, since that hit, they've failed to win back to back periods! Since that hit, which hurt Miller and forced him to miss time, the Sabres have been falling like dominos, 17 players have gone down with injuries and we have lost 183 man games to injury this season.
I'm hoping the Sabres can turn it around in the second half of the season; they need more forwards to step up and score a few goals. Vanek and Pominville need some help, don't want to wear them out before the playoffs. The goaltending of Miller has to be better, all those wanting the team to ride Enroth can kiss the playoffs good bye. If this team is going to make the playoff it will be with Miller between the pipes!