Last night while watching the Blackhawks vs Senators, news broke the Toronto Maple Leafs fired head coach Ron Wilson and replaced him with Randy Carlyle. Right away I turned on twitter to see if it was true and to see the reactions of Leafsnation, I don't know how Leafsnation didn't break twitter! But nevertheless Brian Burke fired long time friend Ron Wilson as he just wasn't getting the job done in Toronto.
Wilson was given a 4 year deal on June 10th 2008, by interim GM Cliff Fletcher. The 4 year deal was worth $5.6 million. To Wilson's credit he lasted most of his 4 years behind the bench in Toronto no easy task. During his 4 year tenure with the Leafs he failed to lead the team to the playoffs in 3 straight seasons, and was on pace to again miss the playoffs, which would bring the Leafs playoff drought to 7 years. Something had to give, with Leafs fans calling for Wilson's head, the Leafs one game above .500, and a couple of lackluster games by the Leafs, Brian Burke had no choice to pull the plug on his head coach and longtime friend. Wilson coach 310 games with the Leafs only winning 130 and as previously stated he failed to make the post season in 3 straight seasons. Some are saying this is the most dramatic firing of a Leafs coach since Pat Burns was fired on the plane ride home 16 years ago. Wilson was in Montreal with the team and even led practice on Friday morning.
There is a lot of speculation this was a spur of the moment decision by Burke, saying the decision was made Friday or Thursday evening. But Sportsnet radio 590 claimed Burke had made the choice to fire Wilson Wednesday/Thursday morning, but kept his decision quite until he found a replacement. Although I'm not sure if the story is true, it's certainly interesting!
After receiving a contract extension in December, Wilson supposedly lost control of the players, and he started "throwing them under the bus" in the media. Some players were beginning to speak out against him. It's the same situation that happened in Washington, the players shutout the coach and the coach got the short end of the stick. Now I'm not saying Wilson was doing a fantastic job coaching the Leafs by any means, but it was a decision that was inevitable, the players made sure of it! Wilson was often critiqued of not showing any emotion coaching behind the bench. But whatever happened, many including Burke believe that this group of Maple Leafs is good enough to make it to the playoffs, and under the coaching of Ron Wilson that just wasn't happening. Whether you like Ron Wilson or not, he is a good if not great coach! He's one of only 7 other coaches to win at least 600 games, tied for 4th with 18 seasons as a coach, and is 3rd all time in games coached with 1,400 games and a legendary coach, he will likely be behind a bench again sometime soon.
Ponder this for a moment, something no other blogger or analyst has openly discussed. Conserder this: What if Ron Wilson came to Burke and asked him to find a new coach?
No coach would ever publicly quit on their hockey team, they'd never get hired again. But being the head coach of the Toronto Maple Leafs is no walk in the park, and this season has been particularly rough on Wilson. Coming into the season not knowing if he'd have a new contract, being faced with the task of getting the Leafs in the playoffs, hearing the #FireWilson chants, having players not battling every night for you and having a GM taking the players side and not doing any significant deals at the Deadline. Not to mention how well Dallas Eakins is doing with the Marlies, Wilson was on borrowed time before he would have been replaced with Eakins anyways. You got to admit it can't be easy going to work everyday and having 20,000 people screaming to have you fired, and basically being called public enemy number 1. So knowing all that it is possible that Wilson said to Burke "hey it's been 4 years I can't seem to motivate these guys, I'm not having a good time coaching here I think it may be time for a change" You never know after all Wilson didn't look like he was having a lot of fun coaching these guys, he'll probably be on some beach somewhere hot with his wife and grandkids tomorrow just chilling out!
The New Guy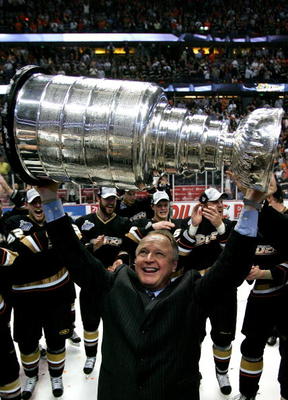 Shortly after the news broke that Wilson was out in T.O, it was announced that former Anaheim Ducks coach Randy Carlyle had been given a 3 year contract to be the new Maple Leafs head coach. Carlyle becomes the 28th head coach in Toronto Maple Leaf history, and is one of 8 coaches who actually played for the Leafs. Much like Burke and Wilson, Carlyle too has a past relationship with Burke, the two won the Stanley Cup in 2007 with the Ducks. He started coaching in 1995 and has NEVER had a losing record in a full season, that's a great stat, but welcome to Toronto Randy.
In 6 seasons with the Ducks he missed the playoffs just once and won a Stanley Cup in 2007. Carlyle has been brought in to help salvage (if he can) what is left of the Leafs season. It will be no easy task as the Leafs have just 1 win in their last 10 games, and are in 12th 5 points back of 8th. But Carlyle is the type of no nonsense coach the Leafs may need right now, if anyone can get them back on track I believe it's this guy! Another added benefit to the Carlyle hire is he comes with a ton of playoff coaching experience. You can see it, if Carlyle and the players get at it, he just holds up his Stanley Cup ring and asks if any of the Leafs have one, that should shut them up in a hurry!
Carlyle will likely make the Leafs a more disciplined and organized team. He pays extra attention to the defensive zone and makes sure his team can kill of penalties.  Not to mention guys that are playing for contracts will have to get their butts in gear.
Some things to watch out for
Carlyle and Leafs forward Joffrey Lupul don't exactly have a great history. Lupul was traded twice while Carlyle was coach of the Ducks, and is known for giving up and saying Lupul isn't good enough to play in the league. In fairness to Lupul injuries played a major part in the situations, but the Ducks and Carlyle basically gave up on Lupul.
Another thing to watch, is if the Leafs actually do make the postseason this season under a new head coach. This move can go one of 2 ways; either it blows up in the Leafs faces and the players don't respond well to Carlyle. Or this will light a fire under them and force them to wake up and play some of their best hockey.
Who will ultimately get to takeover the goaltending duties Gustavsson or Reimer, one thing most fans were sure of was the fact Wilson gave up on Gustavsson and wanted Reimer to be the guy. But neither goalie was performing well so Wilson couldn't make up his mind. Carlyle is coming from a team that had star goalie Jhonas Hiller, he's going to want a goalie to step up and be number one. How will he figure that out? The Leafs have 18 games left, pick one to give 4 straight starts, if he handles it, let them ride out the last 14 games. If they can't, pick the other one. One thing is for sure goalies can't get into their grove and play well when given spot starts which is what Wilson was doing, which is also why the goaltending wasn't working. I believe if you give one of these guys a nice stretch of hockey games the Leafs goaltending woes will be gone. This could also be Gustavsson's last chance to become a Leafs goalie of the future.
Carlyle has the fortunate position of not HAVING to make the playoffs. He's got a built in excuse and one he should use to start looking toward the future.
This was the only way of lighting a fire under the player's butts, for some reason Burke made no significant roster moves at the deadline, so the only option was a coaching change. Ultimately this was a stall tactic for Burke to save his own butt, if things don't start panning out in Toronto it could and should be Brian Burke packing his bags next!