Time to wrap up another crazy week in the NHL.
Stamkos reaches 50
Steven Stamkos is quite the remarkable young hockey player who will likely win a Stanley Cup somewhere down the line in his historic NHL career. Stamkos isn't even 23, yet he has accomplished so much in his 4 years of NHL hockey. On Tuesday night Stamkos scored 2 goals against the Boston Bruins to give him 50 goals on the season, not only has did he reach the remarkable 50 goal platoue he joins an exclusive list of 7 players who have accomplished the feat twice in their career before turning 23! Wayne Gretzky (did it 5 times), Mario Lemieux, Alexander Ovechkin, Pavel Bure, Joe Nieuwendyke and Mike Bossy. Not bad company if you ask me!
Stamkos is having an amazing season having scored 35 goals in 30 games he looks to be the front runner for the Rocket Richard trophy, it would be the second time the young sniper has won the award (2009-2010).
Since the beginning of the 2009-2010 season Stamkos has scored 149 goals, the most by any player over that time span and 35 more than Ovechkin and Perry (111). Every time Stamkos takes to the ice the chances of something magnificent happening are great!
This Kids going to heck of a career!
The other Penguin returnee
Perhaps lost in all the buzz over Crosby, was the return of Kris Letang to the Penguins line-up Thursday night. Now It's a stretch to say the Letang is better than Crosby, but right now many are saying having Letang out for the playoffs would be worse than Crosby. Letang is a very important member of the Penguins team, a crucial defenceman. Leang has just over 24 minutes of ice time notched an assists and was a plus-5. Letang was returning from a concussion just like Crosby, and it was Letang's 2nd concussion of the season.
Crosby returns!
Thursday night marked the 2nd return of Sidney Crosby for his concussion/neck issues. Crosby
 re-aggravated his concussion back December 5th after taking a butt end/elbow to the head. Crosby played exactly 16 minutes against the Rangers on Thursday, and finished with 1 assist and a plus-3. Wasn't an expectational return from Sid the kid but it didn't have to be, the Penguins were playing just fine without him. (sounds weird eh?) The 5-3 win for the Penguins marks their 10th straight win and truly solidifies them as top contenders in the Eastern conference. Crosby approached his 2nd return with a different mindset than his first, he was a little more hesitant, emotions weren't riding as high and he wasn't eager to test himself with contact. Not to be overshadowed by Crosby's return, is Malkin. This is still very much Malkins' team this season, so I hope he does not get forgotten about with everything he has done in Crosby's absence. Heck when your name is Sidney Crosby good things happen at 1:42pm on Friday the league officially credited Crosby with a second assist, on the Matt Cooke goal.
Tyler Myers gets suspended
Tyler Myers was handed a 3 game suspension from Brendan Shanahan for boarding Canadians Scott Gomez. Myers will forfeit $14,189.19 in salary over the 3 games. Myers has 2 games left in his suspension.
Hybrid Icing gets a vote of confidence
We've all seen them, a race for a icing skates and sticks get tangled up and one player goes flying into the boards; breaking a leg, dislocating a shoulder and even concussions have all come from icing races. When I watch hockey games and see close icing races I hold my breath, you never wanna see a player go flying into the boards and end up hurt. It would appear the NHL GM's feel the same way and are ready for a change in the icing rules. The change require the linesman to make a judgement call (we all know how those work out!), If the forecheker is leading the play by the faceoff dot the play continues or if the defenseman is leading the play or tied with the forechecker by the faceoff dot the play is to be blown dead and be ruled an icing. There are still a few technicalities with this new rule change, but it's a step in the right direction. It still has to be voted on by the competition comitee before being implemented into the NHL as early as next season.
The Universes goalie make history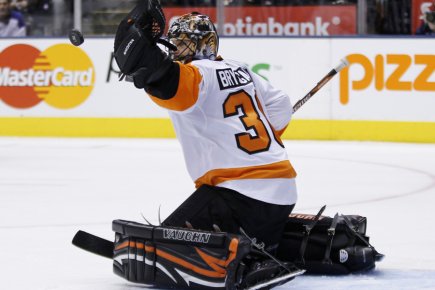 Despite being one of the wackiest, strangest goalies you will probably ever find Ilya Bryzgalov is actually a solid netminder when he focus' on just hockey. Going into Thursday nights game against the Islanders, Bryzgalov was on a stretch of 3 straight shutouts and score less streak of 196:13 just 31 minutes shy of the Flyers record 227:40 set by John Vanbiesbrouck set in 1999. Midway through the second period Bryzgalov was able to beat the record and even extended it to 249:43 before two goals were scored on the Flyers netminder. As his teammates pointed out Bryz has finally got his "Swagger" back, and with that swagger he makes this Flyers team Cup contenders.
The ageless Selanne notches another accomplishment
Teemu Selanne passes his childhood idol Jari Kurri on the all-time scoring list, moving Selanne into 19th with 1,399 career points. Selanne also becomes the all time leading scorer from Finland and is third on the list of Europeans.
Suspected first overall pick on the shelf
Nail Yakupov who is widely expected to be drafted first overall at this years entry draft is on the shelf for the remainder of the season. Luckily it is just 3 games the Sarnia Sting winger will be missing, he is out with an upper body injury (stitches in his lip), he is hoping to re turn for the OHL playoffs.
Before I end this blog check out the must see moment from this week in the NHL; Eric Cole high fives the referee;