The Sabres played a hard, spirited game against the Ducks last night, you can sum up the game in 2 words; Ryan Miller. The former Vezina winner and team USA goaltender stood on his head once again in a game some are calling his best as a Sabre, stopping 43 shots to earn his 4th shutout of the season (3 post all star break). Miller's play of late has Sabres fans excited and hoping that the playoffs are still attainable, and there's no question if the Sabres want to make the postseason they will need Ryan Miller to be on his game. It would appear it's Miller time in Buffalo again!
Ryan Miller wearing the "Golden Helmet"
as the top Sabres player of the game.
It's taken Miller about 40 games to start playing like the MVP, Vezina winning goaltender that he is. A lot of that was attributed to the Milan Lucic incident, when he missed some games came back played like crap, missed some more games and was never really able to get in his grove. But since hitting rock bottom around January 24th (2-7-0), Miller has been on fire going 9-2-3. He's played in 18 consecutive games allowing fewer than 3 goals in 10 of those. He's now won at least 20 games in 7 straight season, so much for that "one good season" argument.
Where did the turnaround happen?
During the all-star break, it's great to be selected to play in the all-star game and all that hoopalala but a lot of players need that break. This year Miller got the break, he had 5 days to relax, focus on what he needs to improve, his technique and to be out of the spotlight. He got the time to mentally restore himself and fully heal from that concussion, because like it or not that hit was the turning point, where it all went south for the Sabres. Since the NHL all-star break the Sabres have gone 9-3-3 and have a 4.1% chance of making the post season, and a large part of that is the play of Ryan Miller. But quite possibly the biggest change in his game is confidence, he's found his "swagger" and is much more confident now as opposed to earlier in the year. He's making amazing, jaw dropping saves we weren't seeing before the break.
What a lot of coaches and couch coaches fail to understand is that goalies need a heavy workload, notice that the goalies playing 12 straight games play a lot better than goalies that are being switched every other game. This is a major reason the Leafs aren't getting goaltending, Wilson is afraid to run with a goalie for a stretch of games, after a couple bad games their back on the bench. But look at Miller, he had a rough/bad first half of the season, but Ruff kept putting him in there and knowing that the Sabres don't stand a chance of making the playoffs if Miller isn't between the pipes, Ruff's letting him play long stretches. What goalies need is to play several games so they can get into a grove, once they get in that grove their unstoppable (if their a decent goalie).
Let's talk numbers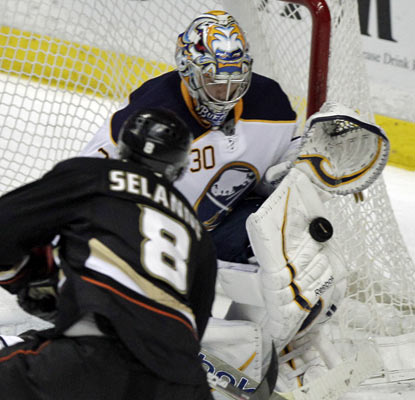 I've thrown a lot of numbers at you guys of Miller's play since the all-star game (9-2-3), some pretty phenomenal numbers, but let's dive deeper! In the last 5 games Miller is 4-0-1 with a 1.366 Goals Against Average, I dare you to find me a goalie with better numbers over that stretch! Not to mention he broke his second Sabres record last night; 43 saves is the most in a shutout win by any Sabres netminder. But looking beyond the numbers, it's not just his stats it's the things that don't show up on the score sheet; his highlight reel, jaw dropping saves, the fact he's playing with more emotion and that he's never giving up on a puck. Earlier in the year, you'd see him give up on a play but right now he's battling till the pucks in his glove! The way he's playing right now should have Sabres fans all excited and the rest of the league a little scared, if the Sabres do manage to squeak into the playoffs on the current run their on with Miller playing how he is, we may surprise a few teams. But getting into the playoffs is going to be a daunting task, despite being just 5 points out, the Sabres have to go 12-5-2 to finish off the season, to have a little more than 50% chance of making it. It's going to be tough as 7 of our next 9 games are on the road including matches with the Canucks and Sharks, plus we play the Leafs who are just ahead of us two more times.
What it all comes down too
Alright let's face it, as die hard Sabres fans we're not going to admit that the Sabres wont make the playoffs until their mathamatically eliminated. Now I still have faith the Miller and the boys can get it done, if they keep playing exceptional hockey. But let's be real here, what the
deadline moves
told us is the Sabres are building for the future. Now future is a scary word for fans to hear, just look at what's happening in Toronto, the fans are tired of waiting for that never coming future. But good news for Sabres fans, this future is as early as next season. If we were expecting to go deep in the playoffs we would have kept Gaustad for his grit and face off ability, kept Kassian and not acquire a rookie who's just breaking into the league. One of the major reasons the Sabres failed to live up to expectations this season was all the injuries but imagine this team next year healthy, with Miller playing like he is now, and players earning their money oh man we'll be untuchable. Like it or not if this team is going to win a Stanley Cup it's going to be with Ryan Miller Between the pipes!
Whether or not the Buffalo Sabres make the 2012 playoffs remains unknown and will likely stay that way for the next 19 games. But the one thing the Sabres can do is win, just win that's the best way to solidify your spot in the postseason!