Apart from winning the Stanley Cup one of the great honours for a hockey player is to be inducted into the Hockey Hall of Fame after they retire from the great game. Forever having you name etched into the Hall of Fame for generations of people to see, being known as a legend and a hero to young hockey fans. For 4 players their dreams came true on Tuesday: Mats Sundin, Joe Sakic, Adam Oates and Pavel Bure were all elected into the Hockey Hall of Fame.
Mats Sundin
Let's start with a guy I actually got to see play. Growing up in Toronto everything is about the Leafs so when I began watching hockey I fell in love with Sundin. I loved the way he played the game and to me as a little kid he was a fantastic captain, and a true captain. Perhaps an ever rarer feat is getting voted into the Hall as a first timer, Sundin was voted into the Hall in his first eligible year. He retired after the 2008-2009 season and becomes the first player to end his career as a Canuck and be inducted into the Hall. While Sundin failed to raise Lord Stanley he was a legendary Toronto Maple Leafs. He played 13 seasons with the buds and was the captain from 1997-2008. He still holds franchise records in goals (420), assists by a forward (567) and total points (987). Despite failing to win a Stanley Cup, Sundin was the face of the Leafs franchise and a beloved captain.
"I think you have to be part of the Toronto Maple Leafs to understand the importance of the team for the city of Toronto," Sundin said. "It took a little while to learn that and also to understand the pressure to be a Toronto Maple Leafs player and coach and management, to live with that. The whole city lives and breathes the Toronto Maple Leafs. The longer you're there, you appreciate it more and you understand it's bigger than just trying to be a player. It was certainly the best time of my life.
While his NHL career was not overly successful (not Stanley Cup) he made up for it with his International play. He played 14 tournaments for team Sweden and won a gold medal at the 2006 Winter Olympics. Sundin was also the first European player to be drafted first overall in 1989 by Quebec and was the first Swedish player to record 1000 points.
He played 18 seasons in the NHL and tallied 564 goals, 785 assists and 1,349 points in 1,346 games. Sundin also had the pleasure of seeing his jersey #13 raised to the rafters of the ACC and honoured by the Toronto Maple Leafs. It will be a long while before the Leafs have another captain like Sundin. Sundin may go down as one of the best players to play that never won a Stanley Cup.
Joe Sakic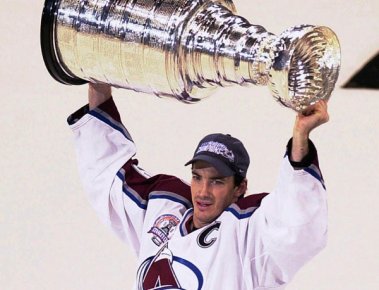 Perhaps one of the greatest players to ever lace up the skates. Sakic won just about every major awards a hockey player can, including 2 Stanley Cups (1996, 2001), the Hart Trophy, the Conn Smythe trophy, the Lady Byng trophy and an Olympic Gold medal in 2002. He played all 20 NHL seasons with the Quebec Nordics/Colorado Avalanche franchise and still holds the franchise records for: goals (625), Assists (1,016) and points (1,641).
Like Sundin, Sakic was also a first year eligible nominee, but was considered a shoo-in by many. In addition to his two Stanley Cup wins, Sakic won the World Junior Championships, the World Championships, the World Cup and an Olympic Gold Medal.
In his 20 seasons with the Avalanche organization Sakic captained the team for 16 seasons and his the 2nd longest serving captain in NHL history. Sakic had an amazing and historic run in the NHL, and is very worthy of his election into the Hockey Hall of Fame.
Adam Oates
Being elected into the Hockey Hall of Fame is a huge honour for any player, so you have to think Oates was having a pretty good day when he got the call from the Hall. But if you can imagine his day got even better as he was also named the head coach of the Washington Capitals. Not a bad day eh?
"Obviously it's a fantastic day," Oates said. "I don't know if that has ever happened before. I gotta go out and play lotto."
Oates has never won a Stanley Cup, he came close mere months ago as an assistant coach with the New Jersey Devils but will now have the opportunity to do so with Alexander Ovechkin and the Washington Capitals.
Oates had a 19 year NHL career which saw him split time between the Red Wings, Bruins, Capitals, Flyers, Ducks and Oilers. He was known for his passing skills and credits his parents for teaching him to be an unselfish athlete so he was able to develop the willingness to pass. Oates finished his career 6th all time in the NHL with 1,079 assists in addition to his assists he added 341 goals for 1,420 points.
One of the things NHL scouts look for in a prospect is size, in Oates draft year he wasn't very big and was passed on in the NHL. Instead he went to the NCAA were he won a NCAA division 1 championship in 1985.
"I was kind of a late-bloomer," Oates said. "When the scouts look at the draft, they look at the big kids. I was a small kid, a late-bloomer that slipped through the cracks. It allowed me to go to college, and then came that second wave of guys that got signed. I got to play 19 years in this League, and I'm very fortunate."
Pavel Bure
After defecting with his family Bure joined the Vancouver Canucks and won the Calder trophy in 1992. He was limited to just 12 NHL seasons due to knee injuries but Bure made the most of his time in the NHL. Scoring 60 goals twice and scoring (59 and 58) in two other seasons in his 702 NHL games. He averaged 36.7 goals per season and was able to record 779 points.
One man who played a part in three of the inductees careers Pat Quinn was quite proud:
"It's just incredible, really," Quinn said. "Having been around Pavel and Mats, and then also Joe on the Canadian teams, it's been such a privilege for me as a coach and hockey person. I watched them perform at such high levels all the time. I watched Pavel grow as a 20-year-old and become one of the brightest starts in the game. Mats was truly one of the great captains. With Joe, he was just spectacular in 2002. He was such a privilege to be around. He was a key leader for us. We wouldn't have a gold medal but for his accomplishments.

"I am proud today. It's a good day for me as well."
Congratulations to Mats Sundin, Joe Sakic, Adam Oates and Pavel Bure. These four men now have their names permanently engraved in history at the Hockey Hall of Fame. I look forward to seeing these legendary players in the Hall next time I'm there.