This post is a follow up of sorts to my last piece:
L.A Kings Stanley Cup Champions
 and will be breaking down how the Kings won the cup. It will talk about some of the key players, key scenarios and how the Kings were able to defeat the Devils in 6 games.
So as you should know by the now the Los Angeles Kings are the 2011-2012 Stanley Cup Champions after defeating the Devils 6-1 on Monday night. The Kings went on a Cinderella run after defeating the Vancouver Canucks in the first round, going on to eliminate the first 3 seeds in the West (Canucks, Blues, Coyotes) and became the first ever 8th seed to lift Lord Stanley's Cup.
So how did they do it, it sure as heck didn't come easily. I've done the research and ran the numbers and came up with some key points.
3 Reasons the Kings won:
1. Jonathan Quick
No matter how good a team is if they don't have good goaltending to go along with it the team will not be successful. That's not the case with the Kings (or the Devils) Jonathan Quick was exceptional throughout these playoffs and was a major reason why they were lifting the cup on Monday. Quick went 16-4 with a 1.41 GAA and .946 Save Percentage add 3 shutouts and 10 consecutive road victories and you have your Conn Smythe winner. He was able to keep the Kings in games even when they weren't scoring, letting in 2 or less goals in 18 of 20 games.
In the Stanley Cup finals he let in just 7 goals in 6 games and stopped 125 of 132 shots.
His 1.41 GAA and .946 Save Percentage were enough to earn him the lowest goals against average and highest save percentage honours. (All done in one playoff year).
In 20 games this post season quick faced 538 shots and stopped 509 of them.
Needless to say Quick was very worthy of his Conn Smythe trophy as he was a major key to the Kings Stanley Cup victory playing lights out hockey. He vitually put an end to Roberto Loungo's career in Vancouver and Zach Parise's career in New Jersey.
He out duelled the legendary Martin Brodeur and that's how the Kings won, they got better goaltending when they needed it most.
2. No place like the road
The Kings were able to do something that hockey fans may never see again, throughout the playoffs they went 10-1 on the road. Including 10 consecutive road wins. In all 4 series they played they started on the road and all 4 times they came back with a 2-0 series lead. Which further proves the myth of home ice advantage, it doesn't matter where you play you can still win and be dominate... the Kings did. You want to talk about home ice advantage, ask the Canucks how well that worked out for them!
3. Top players stepped up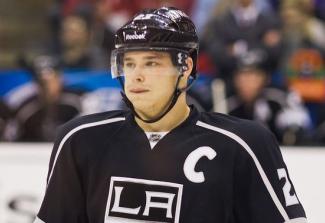 All a team can ask from their star players is that the produce in big games. On Monday night the Kings couldn't have asked for much more from Dustin Brown. Brown opened the scoring by tipping in a Drew Doughty point shot and added 2 assists before the night was over. Putting up 3 points in game 6 and leading by example. The line of Anze Kopitar, Dustin Brown and Justin Williams was the best line for any team in playoffs together they combined for 35 points and a plus/minus of 40. Brown and Kopitar both racked up 20 points and took turn leading the team during the playoffs. Although they were relatively quite during the Finals, Brown came up big when his team needed him most!
3 Stars
1. Jonathan Quick16-4 - 1.41 GAA- .946 S%-- 3 shutouts and 10 consecutive road victories
The stats speak for themselves.

2. Dustin Brown and Anze Kopitar
Combining these guys together as their stats are identical and they play on the same line!
8 goals - 12 Assists - 20 points with a +/- 16
3. Drew Doughty
Huge leader on defense for the Kings, also came up big in game 6.
4 goals - 12 assists - 16 points He led all defenseman in points in the playoffs.
Honourable Mention
Willie Mitchell--- 
was on the for 73:43 of Short handed time throughout the playoffs one of their best and most reliable defenseman. He was able to contribute on the score board by adding a goal and 2 assists for 3 points and remarkably was a +7 despite playing almost 75 minutes short handed.
Dark Horse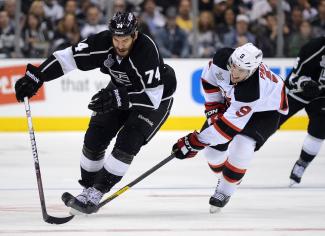 Dwight King
-- a guy very few had heard of before the playoffs began proved to be an important member of the Kings roster and now very deservedly gets his name on the Stanley Cup. King didn't score his first NHL goal until February of this year and was drafted 109th overall in 2007, not exactly the kind of guy you expect big production from. He racked up 24 points in 27 goals during the regular season and didn't stop there. He racked up 5 goals and added 3 assists for 8 points during these playoffs, although those aren't crazy stats they're pretty solid for a 4th line rookie. In fact he outscored Kings Dustin Penner and Justin Williams. He also led the Kings with a 15.2 shooting percentage.
King was able to put the puck in the net when it mattered most and scored some goals that "broke the back" of opponents. He was also responsible for the 3rd goal in which the Kings scored on the 5 minute major, when he got the puck in the neutral zone, breezed past some defenders and left the puck sitting there for his line mate to tap in.
He's a real Don Cherry type of player and he's Canadian to boot!

2 Key Moments
1. Penalty Trouble
This one is obvious, the hit by Steve Bernier on Rob Scuderi which resulted in Bernier being kicked out of the game and the Kings going on a 5 minute power play in which they capitalized 3 times. This play unfortunately set the tone for the rest of the game and spelled the beginning of the end for the Devils who had all the momentum up until that hit. The Kings rallied around that opportunity and seized it which led to them winning their first Stanley Cup in franchise history.
2. The trade Deadline
What the kings were able to do and didn't do paid huge dividends in the end. They were able to acquire former Flyer and Mike Richards party mate Jeff Carter from the Blue Jackets. Carter scored 2 goals in game 6 including the clinching goal that led to the Kings raising the Cup. Carter and Richards Combined for 28 points during the playoffs and needless to say the Kings are great full they were on their roster. Turns out they are capable of winning a Stanley Cup. The Flyers should be getting that thank you card any day now.
Another move or lack there of by the Kings was deciding to keep captain Dustin Brown who was rumoured to be on the trade block. I be they're glad they kept him now! Brown came up big in game 6 recording a goal and 2 assists to lead his team to their first ever championship.
After the King acquired Jeff Carter and Kept Dustin Brown they went on a remarkable 29-9-3 run (much like the Sabres) which ultimately landed them in the 8th and final playoff spot. Brown kicked off the run with a hat trick in a 4-0 win.
Interesting stats1. The Rangers who only made it to the Conference played the same number of games as the Kings2. The New Jersey Devils played in 24 games which is 4 games more than the Kings.3. 29 other goalies in the NHL have a higher cap hit than Jonathan Quick (that will be changing)4. The Kings went 12-2 during their run through the Western Conference during the playoffs. 5. The Kings are now the third straight Stanley Cup Champions to have started their season in Europe. (2009 Penguins, 2010 Blackhawks and 2011 Bruins)6. Dustin Brown is just the 2nd American born captain to raise the Cup.7. The Kings had 25 Canadian players on their roster,