The NHL Entry Draft took place on Friday night in Pittsburgh and it was everything fans could have wanted. There were trades, unsuspected draft picks and lots of boo's from the Penguins fans. In all honesty what could be better than moms crying tears of happiness and proud fathers hugging their sons after getting drafted? One things for sure this is a night these young kids will never forget!
So time to break down the first round draft picks:
1. Edmonton Oilers- Nail Yakupov
This was a bit of a strange pick for the Oilers, honestly they didn't need another forward. They already have Taylor Hall, Ryan Nugent-Hopkins, and Jordan Eberle. But with their 3rd straight first overall pick the Edmonton Oilers selected Sarnia Sting forward Nail Yakupov. There's no question Yakupov is a star player who wouldn't have fallen out of the top 5 but many including myself thought the Oilers would go in the direction of a defenceman. It will be interesting to see if the Oilers will be able to make the playoffs with exuberance of forwards or will fall just short after not fixing up their back end.
2. Columbus Blue Jackets- Ryan Murray
The defenceman many thought the Oilers would be thinking about ends up going to the Blue Jackets. Good draft pick by the Blue Jackets but maybe a bit of a sad thing for Murray. Jokes immediately surfaced on twitter on how long it would take before Murray demanded a trade out of Columbus. Murray is hands down the best defenceman this draft had to offer.
3. Montreal Canadiens- Alex Galchenyuk
This could easily be the best pick from the entire draft, despite missing all but 2 games this season Galchenyuk has a lot of upside. If he had been healthy the entire season many believe he could have challenged Yakupov for the first overall pick, but due to the injury he dropped down to 6 on most rankings. Solid pick by the Canadiens by selecting Galchenyuk
4. New York Islanders- Griffen Reinhart
This pick really surprised, not that Reinhart isn't a very skilled player but him going 4th overall is a bit much in my opinion. Many including myself had him down around 12th (possibly going to Buffalo) so him going 4th was a bit of a shock to the system. Reinhart is a solid player and the 3rd member of his family to enter in the NHL and by far the highest pick of the family. He's got a fantastic shot and can hopefully help the Islanders finally get over the hump.
5. Toronto Maple Leafs- Morgan Rielly
This pick surprised a lot of people as the Leafs didn't need a defenceman they needed a forward, and at 5th in the draft there is a plethora of forwards available to choose. But Burke true to character surprised and frustrated "Leafsnation" by draft Rielly. But the angle the fans should be looking at: Does Luke Schenn now become expendable? It's well documented that the Leafs are in the Luongo sweepstakes Luke Schenn would be a solid bargaining tool. The Leafs got a solid 2 way defenceman who much like Phaneuf likes to skate with the puck.
6. Anaheim Ducks- Hampus Lindholm
Lindholm had the best conditioning of all the draft picks, but I really don't know much about Lindholm.  But I do know in
The Hockey Writers Mock Draft
we had him going at 23, so this was a shock. But obviously the Ducks saw something no one else did. Lindholm will need some time to adjust and learn the North American style of hockey.
7. Minnesota Wild- Matthew Dumba
Another solid defenceman taken in the top 10. Many thought Burke may go after Dumba who has great agility and speed.
8. Pittsburgh Penguins- Derrick Pouliot
One of the best defenceman in the draft. He is one of the most complete players available who has amazing strength.  Pouliot will likely need a few more years to develop but once he does, look out!
9. Winnipeg Jets- Jacob Trouba
In all likely hood Trouba's game will likely become a more defencive style in the NHL, but he has the opportunity to put up some offencive numbers to boot. He's a solid 2 way defenceman who skates smoothly and has all the defencive skills ready to become an NHL blueliner. Solid pick by the Jets with lots of potential.
10. Tampa Bay Lightning- Slater Koekkoek
This pick was complete surprise and came out of no where, in the rankings and the Mock Draft we had Koekkoek going as low as 21st, so to see him in the top 10 was shocking. But he is a truly gifted offensive player. Koekkoek had his junior season cut short due to a shoulder injury but is in no means a liability, he's a very coachable kid and makes himself a student of the game. He is likely several years away as he still needs to learn to play a complete defencive game.
11. Washington Capitals- Filip Forsberg
Forsberg dropping out of the top 10 was a huge surprise many had him as high as third overall. But he is one of arguably the most complete forwards in the draft and offers a huge bonus by being able to play both centre and wing. Forsberg is practically the complete package, he's big, tough, has excellent hockey IQ and has excellent puck handling skills. The Capitals got a steal at 11.
12. Buffalo Sabres- Mikhail Grigorenko
My favorite pick from the entire first round, couldn't be happier the Sabres were able to get Grigorenko  and they didn't have to move up to get him either. Many including myself thought he would be off the board by the time the Sabres got their pick at 12, but he was almost the perfect player for the Sabres. In every draft preview I did (that was Sabres related) I suggested the Sabres trading picks and a player to move up and get their hands on Grigorenko. He's a big solid centre who should be able to step right into the NHL as early as next season and could one day become the Sabres number 1 centre. The Sabres could have stopped drafting right here and I would have been perfectly happy.

13. Dallas Stars- Radek Faksa
A solid centre but likely 2-3 years away from a permanent stay in the NHL. Quite surprised he was still available at 13th overall but will turn into a solid centre in a couple of years only thing lacking is his size.
14. Buffalo Sabres- Zemgus Girgensons
Another first round pick for the Sabres and yet another centre. What did the Buffalo Sabres need going into the draft/free agency? Centres especially one that can turn into a number centre. While Girgensons likely won't become a number one centre he would be a perfect fit on the second or third line in Buffalo. Unlike Grigorenko, Girgensons still needs some time to develop and grow into his 6 foot 2 198 pound frame and possible get bigger. But another solid pick from Buffalo.
15. Ottawa Senators- Cody Ceci
This ones tough as I really wanted the Sabres to go after him at 12th and really really wanted them to go after Ceci at 14th but they didn't really need a defenceman. So the Senators got one of the best defenceman in the draft. Cody Ceci will turn into a solid defenceman and may be ready to step into the NHL as early as October. All I can say is I am slightly jealous the Senators got Ceci.
16. Washington Capitals- Thomas Wilson
Yet another team that was able to nab 2 first round draft picks, so with their second pick the Capitals went after Thomas Wilson. I am a little surprised Wilson went as high as he did as he was ranked near the bottom 5 in the first round, but teams can always use a little more grit. Wilson strikes me as a typical 3rd line centre, likes to play a rough physical game but is more than capable of putting up solid offencive numbers when paired will skilled line mates. The closest comparison to Wilson would be Boston Bruins Milan Lucic, if he develops into even half the player Lucic is the Capitals may have discovered a very solid 3rd liner.
17. San Jose Sharks- Tomas Hertl
I don't have much to say about Hertl as most of the rankings/mock drafts I looked at didn't have him going in the first round. But he looks to be another solid centre, in a draft filled with defenceman it is tough to pick a centre. He will still need some time to develop his game and improve his skating but he should turn into a solid NHL player.
18. Chicago Blackhawks- Teuvo Teravainen
Teravainen is an exceptional talent who proved in his rookie season that he is up to the task of being a top player. He will need more time to develop his game and become more mature, it would benefit him to come over to North America to adjust to the type of game played in the NHL.

19. Tampa Bay Lightning- Andrei Vasilevski
The top goalie taken in the draft, and one of the best. Vasilevski made a name for himself in the World Juniors when he played for Russian and finished the tournament for a 2.01 GAA and .953 Save percentage. He's a very athletic goalie and has amazing hockey IQ and will surely be the starter in the future for the Russia Junior team. He will need time to develop his game (as most goaltenders do) but could turn into the next Lightning starter in a few years.
20. Philadelphia Flyers- Scott Laughton
Laughton is one of the most complete centres in the draft and had the potential to move up in the draft. He will likely develop into a power forward, he's exceptional in the face off circles. He has the potential to be a point per game type of player as he showed at the U-18 tournament.
21. Calgary Flames- Mark Jankowski
This was a very strange draft pick as the Flames actually traded down to acquire this pick and then take a player completely off the board. This is a high gamble pick for the flames as Jankowski is still in high school and is just 17! But despite being such a young kid, he plays with the puck like a seasoned veteran.
22. Pittsburgh Penguins- Olli Maatta
I am extremely surprised that Maatta fell this far as he was ranked just outside the top 10 (15ht). Have you heard of Erik Karlsson? Well this guy could turn into a clone of Karlsson as a solid 2 way defenceman. His strengths come through mainly in his skating and passing but he showed this season in the OHL that he is able to score goals and put points on the board.
23. Florida Panthers- Michael Matheson
Another pick that was "off the board". Matheson likely wont make an impact with the Panthers right away as he is commited to Boston College for his future. Despite him not being that well known he has the potential to become a solid player.
24. Boston Bruins- Malcolm Subban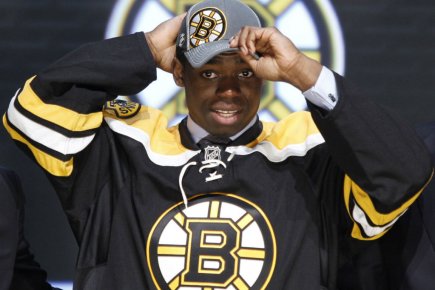 Adding more feul to the Habs vs Bruins rivalry, like they needed anymore? The Bruins have drafted P.K Subban's little brother Malcolm, and he is no longer just P.Ks little brother. Once Malcolm does make it to the NHL (could be a few years) watching him and his brother battle it out will be quite something to watch. But Malcolm has one up on P.K as he was drafted much higher than his older brother. But with whats unfolding in Boston, the Bruins may need a backup for Tukka Rask.
25. St. Louis Blues- Jordan Schmaltz
Another unknown pick who came out of nowhere, Schmaltz like several other players in the draft is coming out of the USHL. Schmaltz is thought of as a "project" player, a high risk that may not turn out.  He is committed to the University of North Dakota. Will be interesting to see his development in the next few years.
26. Vancouver Canucks- Brendan Gaunce
Another pick that I am very surprised fell this low as I was looking into him potentially going to the Sabres at 12th overall. He led his Belleville Bulls with 68 points and has the potential to become a power forward.
27. Phoenix Coyotes- Henrik Samuelsson
Samuelsson's got people attention with his play in the WHL and at the WJC. His draft rose dramatically and ultimately got him into the first round.
28. New York Rangers- Brady Skjei

Skjei is an imposing defenseman who continued to grow this season and has been climbing the charts as well. For a big player, Skjei is tremendously mobile and his high-end skating ability allows him to work in transition and handle incoming forechecks. He's still got a raw skill-set and is learning how to use his size effectively, but the Minnesota commit has an enticing skill-set that projects well at the NHL level. At this point, Skjei has to be considered to be the 2012 edition of the NTDP's Connor Murphy, and we'll see how he plays over the coming months as he makes a final push up the charts."




29. New Jersey Devils- Stefan Matteau
Matteau is thought of to be one of the safer picks in the draft and because of that he was taken in the first round. But he is a very skilled two way player.
30. Los Angeles Kings- Tanner Pearson
This may have been the most shocking player that got drafted in the first round, he went from an "Unknown" to a first round draft pick. It was tough for Pearson who broke his leg right before the start of the playoffs, but he did enough in the regular season to convince the Kings he was worth the Gamble.
This draft has been one of the most unpredictable drafts of late, even inside the top 5 there was little parody. Some had Yakupov 1st while others had Murray going 1st. Some had Grigorenko in the top 5 and some had Griffen Reinhart outside the top 10. But each team seemed to have their own rankings. 
Trades
Pittsburgh Penguins dealt Jordan Staal to Carolina Hurricanes in exchange for 2012 first round pick, prospect Brandon Sutter and Brian Dumoulin.
This was a big trade and pretty much a crucial move by the Penguins. After Jordan Staal turned down a 10 year 60 million dollar deal it was clear he wasn't keen on stay long term with the Penguins as a third line centre. To be honest he is too good to be a third line centre and deserves a chance to be a 2nd or 1st line centre and opportunity he will get with the Hurricanes. 
This move will give Jordan and his brother Eric a chance to play together which is exactly what they wanted. 
Washington Capitals dealt Semyon Varlamov to the Colorado Avalanche in exchange for their first pick in 2012 and their 2nd round pick in 2013
Calgary trades their 14th pick to Buffalo in exchange for Buffalo's 21st pick in round 1 and their 42nd pick in the 2nd round
Tampa Bay deal Kyle Quincey to the Detroit Red Wings in exchange for the Wings first round pick and Sebastien Piche.