At the dawn of every NHL season comes the NHL awards which are handed out to the best players, coaches, goalies, defenseman and forwards. Wednesday will be the official big show for the awards so in honour of tonight's award show it's time to preview it and give you my selections on who should win each award.
Now just like the NHL Draft I am not a huge fan of the award show, it's not that I don't like honouring players who had kick butt seasons, it's more the fact that much like the draft the award show becomes long and boring. The NHL often finds themselves trying to hard to make it entertaining thus making it more boring. So I will skip over all the comedians un-funny jokes and puns, the girls in ridiculously short dresses and the celebrities that are making appearances and get right down to the meat and potatoes, the actual awards.
The Hart TrophyNominees- Henrik Lundqvist, Evgeni Malkin and Steven StamkosWho I pick to win: Evgeni Malkin
Seriously how could Evgeni Malkin not win the Hart trophy after single handedly carrying the Penguins this year while Crosby was hurt. Malkin proved a lot of critics wrong including myself and showed that he is the real deal. Without Malkin's standout play the Penguins would not have been in the playoffs, he is the epitome of what the Hart trophy is about a teams MVP. Without an MVP a team can not excel, without Malkin the Penguins would not have excelled.
Sure Stamkos is an exciting flashy player who scored 60 goals, but did his team make the playoffs because of his goal scoring/play? No, the Lightning failed to make the playoffs despite the success Stamkos had. Malkin scored 50 goals and had over 100 points and his team still made the playoffs in large part due to his play. Which is why Malkin should be leaving the awards show with the Hart Trophy.
Vezina TrophyNominees- Henrik Lundqvist, Pekka Renne and Jonathan QuickWho I pick to win: Jonathan Quick
I can't figure out why but I really fell in love with Quick's game this season, and not just during the playoffs but the whole season. After watching him for the last couple of seasons, I knew he was bound to have a breakout year very soon and apparently it was this year.
The only hitch between Quick leaving with a Vezina trophy was the amazing year Henrik Lundqvist had for the Rangers. He became 1 of only 2 goalies to have 7 straight 30 win seasons and backstopped his team to first place in the Eastern Conference.
But when looking for the Vezina winner you need to look over their body of work during the regular season: Quick led the league with 10 shutouts, finished second with a 1.95 Goals Against Average and finished 5th with a .929 Save Percentage. Not to mention he was in net for 35 of the Kings 40 wins this season and helped carry them for the majority of the season when they couldn't score.

James Norris TrophyNominees- Zdeno Chara, Erik Karlsson and Shea WeberWho I pick to win: Zdeno Chara
Out of all the categories or awards this year this one is the closest. By definition the Norris Trophy is handed out to the defenseman who demonstrated the best over-all game. Meaning his play in both his defensive end and in the opponents end.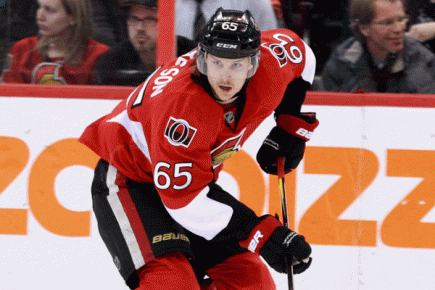 Sure Karlsson had a heck of a season from an offensive standpoint (19 goals and 59 assists) but for my liking he was to offensive and didn't show enough all around game effort.
Zdeno Chara has always been a solid consistent player and a nightmare to play against. He scored 12 goals this season and added 40 assists all while averaging 25 minutes of ice time. He also led the Bruins with 166 hits. Add the fact he's been nominated for this award 4 times and won it once before, he easily becomes one of the most consistent defenceman in the league.
So I'm handing this one to Zdeno Chara but just barely over Karlsson

Calder TrophyNominees- Adam Henrique, Gabriel Landeskog and Ryan Nugent-HopkinsWho I pick to win: Gabriel Landeskog
Anytime a rookie can account for 25% of the goals a team scored and help them win an extra 11 games you know he's the real deal. Landeskog scored 22 goals and put up a huge 52 points while playing all 82 games and finishing with a plus-20.

Lady Byng TrophyNominees- Brian Campbell, Jordan Eberle and Matt MoulsonWho I pick to win: Jordan Eberle
Anytime a player manages just 12 penalty minutes all season you know he plays the game the right way. Sure he may get a rep for being soft, but when you score the type of highlight goals Eberle is capable off, his team is glad he's on the ice more than in the box.

Frank J Selke TrophyNominees- David Backes, Patrice Bergeron and Pavel DatsyukWho I pick to win: Pavel Datsyuk
Can anyone other than Datsyuk win this award, the guy is a beast. He can do things on the ice other players can only dream of. If he's nominated just give the award to him.

Jack Adams AwardNominees- Ken Hitchcock, Paul MaClean and John TortorellaWho I pick to win: Ken Hitchock
What Hitchcock was able to do by transforming the Blues into a playoffs team is remarkable in itself.

Bill Masterton Trophy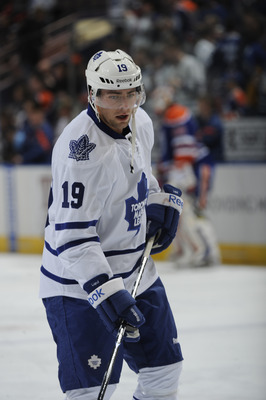 Nominees- Daniel Alfredsson, Joffrey Lupul and Max Pacioretty Who I pick to win: Joffrey Lupul
It's about time a Leaf won something right?
But in all seriousness the way Lupul was able to bounce back from his serious back injuries from his days with the Ducks to turn into a Leafs superstar is remarkable. Lupul deserves this award full fledged.

Ted Lindsay AwardNominees- Henrik Lundqvist, Evgeni Malkin and Steven StamkosWho I pick to win: Evgeni Malkin
This season helped establish the fact that Malkin is the best player on planet earth, he should take home trophies for every category he is nominated for. Yes he's that good.

Bridgestone Messier Leadership AwardNominees- Dustin Brown, Ryan Callahan and Shane DoanWho I pick to win: Dustin Brown

NHL Foundation AwardNominees- Mike Fisher, John Michael Liles and Matt MoulsonWho I pick to win: Mike Fisher
General Manager of the Year AwardNominees- Doug Armstrong, David Poile and Dale TallonWho I pick to win: Doug Armstrong.
William M. Jennings TrophyWinners Brian Elliott and Jaroslov Halak
Maurice Richard TrohpyWinner- Steven Stamkos
Art Ross TrophyWinner- Evgeni Malkin