Nazem Kadri, a name all to familiar to Leaf fans.
Kadri was the leafs top draft pick in the 2009 NHL Entry Draft. The Toronto Maple Leafs selected Kadri 7th overall. But since all the hype over the young rookie, Kadri has failed to crack the starting roster of the Maple Leafs. After two straight seasons of being cut from the team right after training camp, Kadri is looking for a long stint with he big club this year. He better hurry Brian Burke is starting to loose patience in his young "superstar" he has not been performing up to the expectations Burke has for him or the expectations of any first round draft pick for that matter. Kadri has not had overly flattering numbers in the minors, and has not shown great leadership ability, raising major doubts about his future in the NHL. For the 2011-2012 NHL season Burke has made himself clear there is only 1 sport available, ""If you've noticed we've left one spot open, we want some competition for one of the forward spots,"  The line currently consists of Tyler Bozak and Colby Armstrong. Both Bozak and Armstrong benefited from lack of a number 1 center last season, and saw their ice time sky-rocket, but both players know they will be back playing a 3rd or 4th line role this coming season. Competing against Kadri for that 3rd line wing spot are fellow leaf rookies; Joe Colborne and Matt Frattin. Many have stated that Kadri is much to small to play on the kind of team Burke likes, Joe Colborne has the size advantage of the 3 rookies Colborne is in at 6 foot 5 210 pounds. The leafs acquired Colborne in the trade that sent Thomas Kaberle to Boston. Colborne impressed Burke and Wilson right away quickly earning himself a shot to play some games in the big league. That is something Kadri has never done, impressed Burke and Wilson right away. Many leafs fans are getting restless and are abandoning the Kadri bandwagon, I am one of those fans. I don't think drafting Kadri was a smart choice by Brian Burke. I believe Burke got tricked into drafting Kadri. He took him so another team could not have him, not because he wanted him. Many believe it is now time for Kadri to put up or shut up, It is basically Kadri's spot on the 3rd line to loose.
Basically there are two major "knocks" on Kadri; 1. he is too small. 6 feet and 185 pounds. despite being 6 feet tall, he gets shoved around out there like a little rag-doll. Kadri said he lost wait to gain speed.. but his speed wont help when someone clocks him with an open ice hit. 2. He is a one way hockey player who is very poorly defensively. We got to see a bit of that in the 29 games Kadri played with the Leafs last season, he made way to many very poor give-always and the defense always had to bail him out, as he was the last one back for the back-check. Kadri also needs to gain more "hockey sense" you know; when to pass, when to hit, and where to be on the ice at a certain point. He looked all to lost out there for many of his 29 games.
Another aspect of Kadri that has ruffled a few feathers shall we say, is his cockiness. Now don't get me wrong confidence is good in young players. But I think this rookie just might have a little too much cockiness. He is always saying how he has done everything the Leafs have asked him to do and is confident he can make the team.. but as no surprise to many, Kadri gets sent back down. This season he is taking the cockiness to the next level by saying he can't wait for the season opener to play along with Tim Connolly! alright so lets get this straight...... first Kadri just made a clear statement that he believes he will win the only spot left on the roster, with no trouble at all and second the spot is for a 3rd line position not a 1st line position in which Connolly will be occupying. I'm sorry but Kadri is no more a member of the Leafs than new rookie Matt Frattin. Yes Kadri is highly scouted draft pick, and not a drunken party animal who lost his scholarship as the case with Frattin. Every time Kadri steps on the ice or talks to the media he seems entitled to make the squad... But I got a news flash for Kadri he hasn't earned anything, if he keeps this mindset intact he will see himself back in the Marlies and quickly on the trading block rather than in the starting line-up for the Leafs. A positive thing for the leafs is the take no nonsense captaincy from Phaneuf, he'll take Kadri's cockiness and drown it in a river.
So for Kadri this is the year, he's had 3 years to develop and get ready (longer than most 1st top 10 picks). Either he makes the Leafs out of training camp or spend the rest of his Leafs career in the minors and turn out to be a horrible draft pick.
In 29 big league games last season he scored 3 goals and tallied up 12 points helping with 9 assists. So in 3 years Kadri has played 30 games with the Leafs, and it took him an extremely long time to score his first goal, it didn't come till half way through March.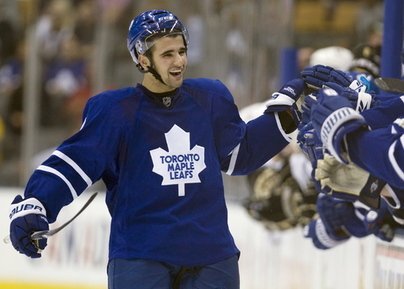 K so I'll put on my GM hat and tell you what I would do if I was Brian Burke...... I would give Kadri the job, but make it clear if he doesn't produce that he's gone. If Kadri doesn't have decent rookie numbers by Christmas at the latest, send him down and call up Colborne, who will most likely be ripping it up in the minors like last season. Now outside of the Kadri situation I would fire Wilson if he isn't getting the job done and promise leafs fans that even though we didn't make the playoffs in the 2011-2012 season that there is still hope for 2020, and mention that I have spoken with the NHL on expanding the playoffs to the teams that are in last place in the divisions.
So in short I suspect we will see Kadri start the season with the big boys, Burke is tired of having to explain why Kadri isn't ready for the NHL yet, so this will allow the media to see the reasons Kadri has been sent down. But all sarcasm aside, Kadri will be in the big leagues come October, but with a very short leash.