Welcome back to another Friday edition of "What You Need To Know", I'm actually writing this bog on a Thursday due to me being away this weekend. Any who, with training camp starting tomorrow there have been lots of RFA signings this week, and quite a few stories to talk about.. so lets dive right in.
There will just be a quick summary of a lot of the stories as, I will be further blogging about some next week.
The Buffalo Sabres have locked up top defenceman Tyler Myers for the next 7 years. The sabres and Myers have agreed upon a 7 year deal worth 38.5 million dollars! The sabres selected Myers 12th overall in the 2008 NHL Entry Draft. The new contract will not kick in until July 1, 2012; when the Myers current contract ends. Myers won the Calder trophy in 2009, for having an outstanding rookie season; in which Myers put up respectable numbers for a rookie defenceman; 11 goals and 37 assist, but also had amazing positional play and was a great "shut-down" defenceman for the sabres.This is a great signing for both teams... as Tyler Myers will turn out to be an amazing player once he fully matures. "We had two sides that wanted to stay together," Myers' agent, J.P. Barry, told the Buffalo News Wednesday. "Tyler wanted to remain a Sabre, and having this done at an early stage was something that he wanted. He's happy that the club approached him about wanting to do this early."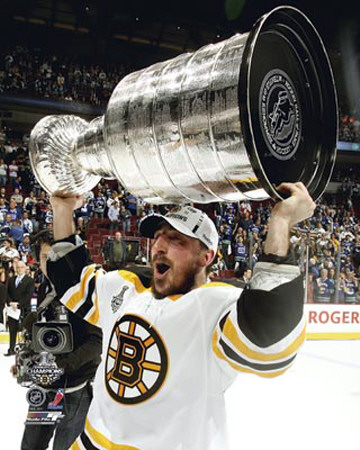 The Bruins were not about to let forward Brad Marchand run away for nothing. The Bruins snagged this gritty forward at a huge discount; A 2 year 5 million dollar contract, which will see Marchand earn 2 million this coming season. Despite being a 3rd round pick in the 2006 NHL Entry Draft, Marchand has made it to the NHL and put up very respectable numbers last season scoring 21 goals and adding 20 assists as well as gaining the major feat of being a plus player, with a plus-25 last year in his first full season with the Bruins.But despite the regular season stats, he really stepped it up in the post season and was a major contributer to the Bruins clinching the cup. With unheard of rookie post season numbers-11 goals and eight assists in 25 playoff games. Marchand was threatening to be a no-show at the start of camp on Friday if there was no deal in place; "I was very, very excited to get this over with," said Marchand on a late-afternoon conference call. "Now I have the opportunity to focus on camp. I'm very excited and very prepared for this season and very proud to be back in a Bruins uniform." Marchand would not state any predictions for the Bruins in the upcoming season; but stated how he is looking to improve his defensive play and keep his emotions in check a little better; "I'm still a young player," Marchand said. "I'm still trying to learn every day."
This will turn out to be a great deal for both sides, Marchand wont have to deal with to much money hanging over his head and can just focus on hockey. I believe this 71st overall draft pick will turn into quite a nice 3rd line player, that other teams quickly come to envy. The young rookie was already in the public eye of the NHL with his reputation of being a "rat" or a scoundrel, Well now he is a very rich and Stanley cup winning rat.
And yet another signing to report; The New York Islanders have agreed to terms with the former number 1 pick at the 2009 NHL Entry Draft, John Tavares. The two sides agreed to a 6 year deal worth 33 million dollars. "I'm thrilled to show the organization and loyal Islanders fans that I want nothing more than to win on Long Island," said Tavares in a statement. "This is an exciting team to be a of part right now. We have a group that I feel will contend every year for a championship and I'm privileged to be a part of the Islanders' future." Tavares, has put up very respectable numbers 29 goals and 38 assists last season. Unfortunately the rest of team hasn't been able to follow suit and the Islanders consistently find themselves near the bottom of the Eastern Conference standings year after year. Tavares could very likely wind up being the next Islanders captain, in the near future.
The last signing story to talk about today; The Winnipeg Jets and Zach Bogosian have agreed upon a new 2 year deal worth 5 million dollars. Bogosian the 3rd overall pick in the 2008 entry drat has been with the Thrashers/ Jets his entire career and will most likely remain a Jet for the rest of his career.
But enough of guys signing extensions... the number game with new signings is extremely unsatisfying soo lets get onto the interesting news;
We all remember the hit on Steve Moore delivered by Todd Bertuzzi, well it wasn't exactly a "hit" more of a sucker punch. For those who need to refresh their memories I will post the video, sorry for no sounds, but you can basically see what happened. Well Steve Moore has filed for a lawsuit and it will be ready for the supreme court in late 2012. Moore is after nearly 40 million dollars! On the sucker punch from 2004 Moore suffered, Moore suffered three fractured vertebrae and a concussion and has not played since. Now the question on when the injuries occurred in the sequence of events will determine a lot. You can argue that the broken neck happened when Moores teammates jumped on Bertuzzi and he then fell on Moores head. Now there is no doubt the Moore and his agent have a case against Bertuzzi, the Canucks had vowed to "get Moore" due to the hit Moore laid on the Canucks captain and leading scorer Markus Näslun. Now the Moore his on Markus Näslundwas deemed a legal hit by the NHL and Steve Moore did not receive a penalty or a suspension. Bertuzzi had it out for more calling him "a piece of S***" after the first incident between Moore and Näslun. I believe like I said earlier Moore has a case but going after 40 million? that a bit out there, he could have had 20 Million and been just fine. I suspect Bertuzzi will try to settle outside of court. The lawsuit is not sitting well with the NHLPA and is making it nearly impossible for Moore to become involved in any way with the NHL in the future.Moore and his lawyer have been trying to sure various members of the Canucks and Bertuzzi since 2005
As per last Friday's blog Drew Doughty and the Los Angeles Kings have still not settled on a deal. Doughty wants to become the highest paid player on the Kings, ahead of forward Anze Kopitar at 6.8 million dollars. But the Kings have made it clear to Doughty and his lawyer saying they will not make him the highest paid players on the team. Right now it is a game of who blinks first. It is suspected that the Kings will pull their previous offer off the table by Friday if Doughty does not agree to terms with the previous offer.
One more story to throw in to this Friday edition of "what you need to know" and we'll end with the story of Kostitsyn and the Canadians head coach Martin. Rumors spread this summer that Kostitsyn was un happy with his role last season and with Martin's coaching.
"I can't guess about next season," Kostitsyn was quoted as saying on the website. "My relationship with the coach is not too good.
"It wasn't me who started to play badly," he said. "It's just that I was being put into (the) third and fourth line. I've tried talking to (Martin). But he doesn't seem to care."But it was different kind of not Kostitsyn was singing on Wednesday, he had nothing but praise to say about his coach;
"I've never had any issue with Andrei," said Martin. "He's a player that brings a lot to our hockey club."
Kostitsyn echoed Martin's sentiments.
"I think we're good for the season," said Kostitsyn. "Coach Jacques is a good coach."
Kostitsyn was not happy with only being signed to a 1 year extension this offseason and say's he want to play for montreal for longer than 1 season.
The only thing that will determine where or what Kostitsyn's role with the team will be for the 2011/2012 season is Kostitsyn himself, if he starts well he'll be amongst the Canadian's top goal scorers and see time on the 1st or 2nd line, but if he does not produce and play well he will stay on the 3rd or 4th line.
Well that will do it for this Friday edition of "what you need to know" stay tuned for upcoming blogs next week