Welcome back to the Friday edition of "what you need to know" Basically I run down information that has been happening in the NHL that you should take note of! So lets get started!
We will have a few stories today since hockey is back!!!!!!!!!!
Lets start of with some suspensions; this is a follow up on my blog from yesterday.
Flyers Jody Shelley has been suspended 10 games for his hit from behind on Toronto's Darryl Boyce. The hit left Boyce with a broken nose. Shelley was kicked out of the game following the hit. Shanahan's statement on the suspension; "The video clearly shows that Boyce has his back to Shelley well before the contact," said NHL disciplinarian Brendan Shanahan in a video explanation. "Boyce does not put himself in this position immediately prior to, or simultaneously, with the check. Shelley has time to avoid the check completely or at the very least minimize the contact.This is a clear violation of the boarding rule."
As the suspension breaks down Shelley will miss the remainder of the preseason and the first 5 games of the regular season. Shelley reportedly refused an in person hearing with Brendon Shanahan, which usually gets an automatic 5 games. Shelley didn't help his case by being a "repeat offender' as he was also suspended twice last season in the month of December. The NHL has a new sheriff in town and I for one am extremely happy about that, Campbell would not have done anything major. Now missing the remainder of the preseason isn't going to be a huge issue, it may mean Shelley has to work a little harder at practice to solidify his spot on this Flyers team, but think if this was during the regular season, a 10 game suspension would really hurt a team. Shanahan is defiantly trying to send a message, we can only believe the penalties are going to get stiffer the more head shots there are.
But Shanahan wasn't done there; he also suspended Flames Pierre-Luc Letourneau-Leblond for four preseason games and 1 regular season game. Shanahan released a video explaining the decision "Letourneau-Leblond took a direct route toward Clackson, hit him squarely from behind into the boards and drove through the check high and hard," Shanahan said in a video statement. "Clackson's back was turned toward Letourneau-Leblond well before the contract, requiring that Letourneau-Leblond avoid or minimize the check completely. He did neither."
Shanahan is letting players know, he is much more strict than Colin Campbell and is actually serious about stopping head shots.Shanahan has set the tone early hopefully the players take note.
Next we move on to a bit of a disturbing scene from last nights preseason tilt between the Flyers and the Red Wings. Newly acquired Flyer Wayne Simmonds. As Simmonds was taking his shot during the shootout a fan threw a banana peel on the ice. The fan that threw the banana was not caught, and managed to get away. Many around the league are calling this a racism thing and that its not right; "The incident that happened in london tonight involving my best friend wayne simmonds was simply disgusting, its 2011 ppl need to grow up." Chris Stewart.
Georges Laraque What do you think of the fan that threw a banana on the ice to mock Philadelphia Flyers player W. Simmonds? He should be ban from rinks!
Simmonds although upset and shaken by the play, says he's ready to move on, he knows the prejudice of a black man playing a white mans sport; "When you're a black man playing in a predominantly white man's sport, you've got to come to expect things like that," Simmonds said. "Over the past 23 years of my life, I've come to expect some things like that. But I'm older and more mature now, I kind of just left things roll off [my back]. I try not to think about stuff like that." "It was unfortunate that this incident happened but I am above this sort of stuff. This is something that is out of my control. Moving forward, this incident is something I will no longer comment on so I can just focus on playing hockey for the Philadelphia Flyers."
Simmonds grew up in Scarbourgh Ontario 2 hours away from London where the preseason match was taking place!
I personally feel sorry for Simmonds, people need to grow up and except the fact that a coloured man is talented enough to play in the NHL. Times are a changing there are more coloured people getting drafted and playing in the NHL and who could forget what nationality the President of the United States is?
Gary Bettman released this statement; "We have millions of great fans who show tremendous respect for our players and for the game," said Bettman in the statement. "The obviously stupid and ignorant action by one individual is in no way representative of our fans or the people of London, Ontario."
Next we will move on to the issue of the "Winter Classic" Its become a loved tradition over the past 5 seasons. A tradition that sees to opposing NHL teams play outside just like the old days. The NHL redesigns a baseball staduim to fit an ice rink fully functual for the NHL. This years Winter Classic is set to be held in Philadelphia and will see the Flyers taking on the New York Rangers. The game will take place on January 2nd this year to avoid scheduling conflicts with the NHL. This has many Canadian fans including myself a little upset. The Flyers and Penguins both American teams have played the Winter Classic twice, while a team from Canada has yet to have a chance. What better team than the Toronto Maple Leafs an original six team; it would be a perfect rivalry for the Leafs and Rangers to square off in a battle of the original six. What makes this news even more disappointing is that the NHL has no plans on a game being played in Canada as has been in the past. Perhaps the most disturbing fact about this years Winter Classic, is that the NHL has moved away from the idea of "good hockey" and moved towards media coverage. Yes both teams will take part in the HBO thing that the Capitals and Penguins were forced to. Just what the Philadelphia Flyers need, more TV time, more time to act like complete idiots on national television. I'm sorry NHL but your turning the beloved Winter Classic into a sad sad thing.
Injury news now; The San Jose Sharks net minder Antero Niittymaki will be out at least 12 weeks after undergoing Hip Surgery. More bad news for the Sharks regular starter Antti Niemi is not completely healthy either. This meaning the team will be forced to use third stringer goaltender Thomas Greiss. Greiss has only played 19 games in the NHL and has 7 wins. Sharks will want Niemi back soon, but for now Greiss should be able to hold his own in replace if the two regulars. Its time for Greiss to put up or go back to the Swedish elite league.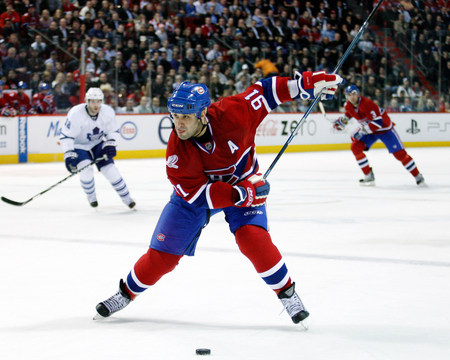 Good news for all Montreal Canadian fans; Scott Gomez is back skating and ready to return to the line-up tonight against the Ottawa Senators. "I wouldn't be out there if it was (still sore)," he said Thursday. "I just refocused, regrouped, and I'm ready to have fun again," he said. "Everything's done. I changed things up in my approach, cleared up my mind a bit and here we go." this is good news for Canadian fans as the Habs have lost their first 2 preseason tilts against Buffalo and Dallas respectively. Hopefully Gomez can help turn the preseason around in Montreal. Gomez is excited to be back, but finds himself with a new line mate for Fridays game. Gomez skated in practice with his linemate for part of last season Max Pacioretty as well as eye-catching junior Brendan Gallagher. His usual right-winger, captain Brian Gionta, will not be in the lineup.
Other NHLers in the Line-up Friday to help turn around Montreal's bad preseason are; P.K. Subban, Hal Gill, Yannick Weber, Mathieu Darche and Erik Cole, all are experienced players who will add some much needed veteran leadership to the young rookies.