Welcome back to another Friday edition of "the puck stops here"
Despite it being a very hectic week in the NHL, there is not much left to talk about........
So I'll see what I can pull together for y'all!
Normally I do not like to talk about players, being signed and what not, but that will have to do for today.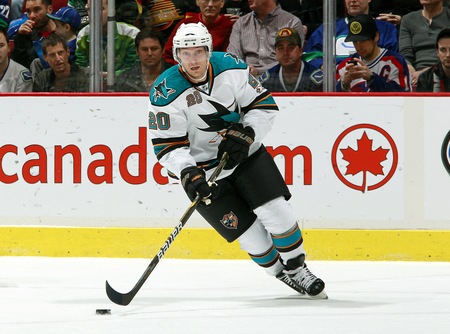 Kyle Wellwood, is the latest edition to the newest team; The Winnipeg Jets. The Jets and Wellwood agreed to a 1 year deal worth around $700,000. The 28 year old has bounced around from team to team, there is much speculation that Wellwood will be forced to play over seas next season. Wellwood, has gained himself a bad reputation around the NHL; He comes to training camp out of shape and parties a little to hard. Are Wellwood's better days behind him? answer in the comments below! Wellwood has racked up a modest 68 goals and 173 points in 373 NHL career games, which has been split between; The Toronto Maple Leafs, San Jose Sharks and Vancouver Canucks. I personally would not take the gamble of adding Wellwood to my team. Yes he's a nifty little player that can get the job done when needed, but I believe he is too much of a hazard ad risk to gamble. It's like rolling a dice and trying to get lucky twice. Now one quick side note to this story; The Winnipeg Jets are the former Atlanta Thrashers. The Trashers were taken away from the city of Atlanta without any heads up or a second chance. Yes the market in Atlanta may not be the biggest for hockey, but the Trashers deserved a little more time to figure out what was wrong and find a solution. Take the Coyotes for example.. anyone counting how many chances they have had now, gotta be close to 5 chances, forget chances, they have been given a free pass by Bettman. Its not fair the way this situation played out, yes we are all happy to have a team back in Canada but Atlanta did not deserve to loose their team so quickly.
Sorry for that rant :)
Anyways, since the limited stories to talk about, I'm going to do some speculation, normally I would never blog about something without confirmation, but just for the fun of it lets do it. You can check your hate at the door folks its not welcome here!
The other night L.A Kings defenseman Drew Doughty reportedly rejected the contract offered to him.
Last season Doughty made a mere 3.5 million, this season Doughty is a restricted free agent and is looking to cash a monster pay day! reportedly the Kings offered Doughty a 9 year 61.2 million dollar contract, in which he would have made 6.8 million alone next season, making him the Kings highest paid defenseman. Now why would Doughty turn down that kind of insane money? Maybe he wants a shorter stay with he Kings, he doesn't want to spend his whole career in place. Doughty was a key part to the Kings mini playoff run.. and was solid during the season, as he was 8th on the team in scoring. so lets take a quick peek at the stats: Doughty has potted 33 goals and dished 93 assists in 239 career games. In the post season last year he added 5 goals and 6 assists in 12 games, the Kings have high intentions of keeping Doughty based on those stats, as he is a very valuable player. So based on the fact he turned down the contracts, people all over started stipulating that he wants to be traded.... and what other big name defenseman still has not been able to work out his contract?..... Luke Schenn! Now unlike Doughty Schenn does not rack up points on the scoreboard, he only scored 5 goals last season and dished a modest 22 assists. Where Schenn's real value is, is the ice time he logs. Last season Schenn averaged 22 minutes a game, 251 hits and 168 blocked shots all of which he Lead the Leafs in. Now intrestingley enough Schenn and Doughty have the same agent! Now there is a slim to none chance that this deal will even be considered.. both players are too valuable for their teams. They both have a different style of play, which their own respected team values. So I don't see this deal happening but it's always a possibility and it is extremely fun to speculate on deals and players.
So that will wrap things up for me this sunny Friday afternoon. hopefully there will be a more eventful weekend and I will have a jam packed blog by next week.
Until then there are only 26 days left till puck drop... October 6th.... WOOOOOOOOOO! start getting excited and I'll see you guys next week!