The NHL preseason has been just about as good as any preseason can be. Lots of rookies trying to prove their the real deal, and some are doing that quite well. So today I'm going to let you know some rookies that may be in the line-up on October 6.
In the preseason the only thing that technically matters are the rookies. for rookies and others trying to crack a roster spot, the preseason is do or die. so which rookies have put up the big number and which rookies need to shut up!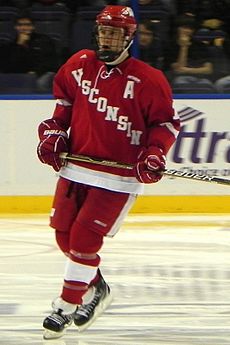 Lets start with the Toronto Maple Leafs and a defenceman who is really proving his point to continue play come October. Jake Gardiner, a name Leafs fans are quickly getting acquainted too. coming into training camp the defence of the leafs was supposed to be a lock of 7 guys, But Gardiner seems to have the key in unlocking that 7 man rotation. Gardiner was acquired in a trade back in February and was instantly considered a top prospect for the Leafs. This training camp Gardiner is really showing just how talented he actually is and it is turning quite a few heads in the Leafs talent scouts and management. It would be a EXTREMELY tough decision for the Leafs to send Gardiner back to the Marlies and see him completely dominate. But that might be the best decision for the development of Jake Gardiner. The final spot on the Leafs defence, is between Mike Komisarek, Carl Gunnarsson and Jake Gardiner. Komisarek and Gunnarsson have become trade able pieces for the leafs, it was likely to be between the two for the final 7, but with the rise of Gardiner it may be a little bit of a tougher decision for the Leafs. Now in order for Burke to trade Komisarek or Gunnarsson he will need them to play for a few games before the trade, now the only defenceman that can go to the minors without any trouble is Keith Aulie. So in order for Leaf fans to see Gardiner in the lineup on opening night, Keith Aulie would need to start the season in the minors until a trade occurs. It is likely that Gardiner will start the season with the AHL Toronto Marlies until later in the year. "Everybody's watching the same thing here," said Poulin. "He's played very, very well which has prompted the next opportunity to play well which he's answered which has prompted the next opportunity to play well. He's the one that's decided that he's gotten the number of games he's gotten. We're all just watching and it'll play out."
Another Leafs prospect is Nazem Kadri. This is Kadri's 3rd attempt at cracking the starting roster and he's having a decent camp. With the camp he's having I don't think he could "win" a spot against a veteran but could move into the role Burke and Wilson have given him on the 3rd or 4th line with Bozak. But Matt frattin is making his case that he deserves his chance too. it will go down to the wire for Kadri and Frattin and will probably be given the Kadri.
Next up is Canucks prospect Cody Hodgson. "I think I started off pretty well and we created some chances," said Hodgson. "I felt like we had a lot of time in their end but just couldn't capitalize on anything. Obviously, it would have been better to win and contribute on the scoreboard, but other than that I felt good skating out there and felt good physically. Hodgson was the 10th overall pick in the 2008 entry draft, but nagging injuries have kept Hodgson in the minors, and the Canucks have started running out of time with Hodgson, its time for him to put or shut up- meaning he would be buried in the minors for his career with the Canucks. Despite all the criticism from the Canucks and media, Hodgson is turning the corner in his career with the Canucks and this may be his time to crack a roster spot permanently. So why the sudden raise in Hodgson's game; he got a new trainer in Gary Roberts and started eating Tofu and began Yoga. There are two situations Hodgson could find himself in come October 6th. 2nd line center in the absence of Ryan Kesler or the 3rd line center while Manny Malhotra recovers from two more eye procedures during the offseason. "I wanted him to kill some penalties, take faceoffs and give him a chance to play in all situations," said associate coach Rick Bowness. "I thought he handled himself very well. He's obviously very good with the puck and when you take as many penalties as we did it takes away from the flow, and that's tough on skilled players. I like that he was moving good, handled the puck well and made some nice shots." Hodgson scored his first preseason goal on Sunday. Hodgson is a Canadian from Markham Ontario."He's a very young man," said Vigneault. "At 21 years old he's still got a lot of good years in front of him. "Some players make the step at an early age. Some players, depending on where their development is, depending on the team (they) are playing for, sometimes there is room and sometimes there is not.
Now the Ottawa Senators will have lots of young rookies in the lineup as they are launching their "youth movement" but a few of the rookies that are really standing out.
Mika Zibanejad is a natural center but is going to be getting a chance to play on the wing. The 18 year old Sweded scored the overtime winning goal in a game against the Bruins. Impressing many. "The interesting one will be to see Zibanejad on right wing and see what kind of a difference that might make for him," coach Paul MacLean said after Saturday's morning skate. The sens say they just want to see if Zibanejad can adapt to different positions as well as his role as a center. Zibanejad was a stand out player at the NHL rookie camp in the 3 preseason games he has played in he has forced himself into the discussion for a opening night roster spot. The main competition for the Zibanejad is Stephane Da Costa both are battling for the 2nd line center spot on the Sens. To make matters worse both players have had an exceptional training camp and either could be the Sens 2nd line center come opening night. The Senators are leaning towards Zibanejad to take over the 2nd line center spot from Peter Regin who had terrible season last year and lost favor with coaches and media. Through 3 preseason games Zibanejad has proven that he could be a NHL Caliber player and is ready for the NHL. It is becoming more likely that Zibanejad will be one of the top 6 forwards of the Ottawa Senators.
For the Buffalo Sabres the rookies haven't really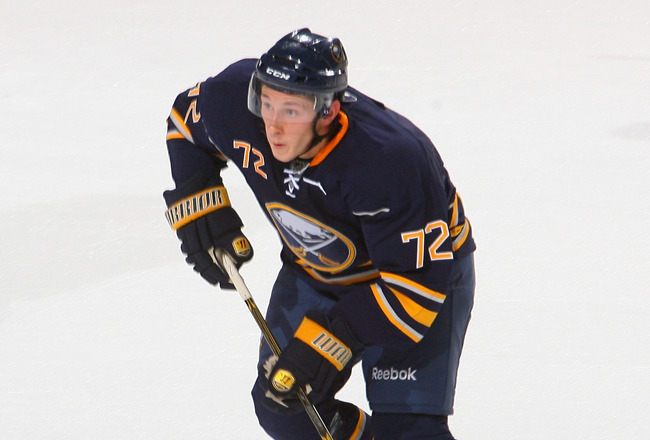 stepped up and helped this preseason, but they haven't needed the rookies cause the veterans are playing just fine! But the one rookie who has a slight chance at staying with the club is Luke Adam. The 21 year old completely dominated in the Traverse City rookie showcase looking like a man plying against young boys he even earned the most valuable player of the tournament award; and he certainly hasn't slowed down now that he is in the NHL preseason. Adam has improved his skating which is the major difference between him now and him last season. Adam with his new found speed and his 6 foot 2, 200 pound frame skating right at you has become a scary thing for defenders. The time for Luke Adam to play in the NHL now, he is showing that he doesn't need another full year of junior, Plus Adam has played 19 games with the sabres. It will be tough to find room for Adam but the sabres will have to be able to find some spot for this youngster. With a AHL rookie of the year award and a Travers city MVP who can deny this kid.
The Bruins dont have much to worry about as they are the defending Stanley Cup Champions, so few rookies will crack the rostor, but one rookie who's been getting rave reviews is Dougie Hamilton. "We're very happy with him," Chiarelli said of Hamilton, Hamilton was the 9th overall pick in the draft and is the ripe age of 18. "I thought he had a strong camp. He got better as each day came along. He's just a good all-around player, for him, at that age (18), to do the stuff he does. He might have been our best all-around defenseman in Ottawa (in Wednesday's preseason opener)." The Bruins are quite ready to add Hamilton to the roster, I think it's possible," Chiarelli said. "You don't want to put the cart before the horse, but he's got a maturity to his game. He's a terrific skater and has poise with the puck. He makes the right plays and maintains a good gap. For a young defenseman, to have that gap at this level, that means he's very confident in his skating and his range." Unfortunetly Hamilton was sent back down to the minors but it is likely he will be called up at some point this season.
For the Pittsburgh Penguins, it is Nick Johnson who they have already said will be playing with the big boys at some time this season. "We know he's going to play games with us this year," said Granato. "Whether it's the first one or the 15th ... he's a guy who can play in our league. Johnson is 25 and has only played 10 NHL games, so Johnson needs to put up and make the team now or shut up and be regarded as a career minor leaguer! Nick Johnson is recovering from a nasty concussion that cut his season short last year. "It's not like, 'I'm at 50 percent. Next week I'll be at 65.' You just don't know," Johnson said as Penguins players reported for the first day of training camp Friday. "It's there or it's not. It's as simple as that. Sometimes, you know, it just takes a little while to go away. Thankfully, with (Crosby), I think he's right there, right on the doorstep. I think he'll be fine."